A few more thoughts about my Catalogue of Calamities.
Xela wrote:
Quote:
I'm really enjoying the titles and the overall style of the presentation! Where can I buy a copy of your book?
Surely you jest. Anyway, it will never be published, except for occasional
excerpts on this forum.
John Tilley wrote.
Quote:
I have to say that after a gap of some 30 years in playing at go clubs, I found
that SDK players were making the same mistakes that were being made in the
1970s..... The hardest thing is taking these mistakes seriously enough.
I want to disagree with this slightly. To adapt Tolstoy, every weak player is weak
in his or her own way. At least to some extent.
Here is the justification. Since November 2019, I have been lucky enough to
find a regular opponent of similar strength: perhaps half to three-quarters
of a stone weaker. The 40 games played so far tend to fall into
a regular pattern: I get ahead in the opening, followed by chaotic fighting
where my opponent usually does better. If I haven't already resigned, I usually gain
many points during the last part of the game.
In several recent games, Leela Zero thinks my winning percentage has been up to 93% after
only 14 moves. The reason is obvious: the opponent does not know any joseki or many
principles of fuseki.
My relative weakness in fighting is probably down to the fact that he is much fitter than
I am, though of the same age.
The only obvious difference in the later parts of these games is that I have better
internalised the idea that it is often more efficient to puncture
the other player's territory than to defend one's own.
None of these relative weaknesses seem easily amenable to change.
The two of us
have
learnt some things from one another.
At first, I would often catch some of his stones in a net: he no longer lets that happen.

He no longer lets me get all the (supposed) double-sente points.

He has a tactic for breaking into my potential area by attaching to the side of one of
my stones. When I answer with a hane, he crosscuts and then forces a way
in with a series of threats to capture. I have slowly and painfully developed
a new personal proverb to cover these cases: To preserve an area, don't hane
but back off to thwart the cross-cut. All I need to do now is to apply it sensibly.

Here is an anecdote about John Tilley. The only time we have been in the same
room was at the old London Go Centre, so more than 40 years ago. Four or five
people were watching a game in its late stages. The bottom of the board looked
something like this. I don't recall how it came about.
[go]$$ | . . . . . . . . . . . . . . . . . . . |
$$ | . . . . . . . . X X . . . . . . . . . |
$$ | . . . O . . X X X O X X X . . , . . . |
$$ | . . . . . X X . . . . . . X . X . . . |
$$ | . . . . . . . X X O X X X . . . . . . |
$$ | . . . . . . . . . X . . . . . . . . . |
$$ ---------------------------------------[/go]
JT breezed into the room, took one glance at the board and immediately said "Ikken tobi
is never a bad move". It was clear that a superior intellect was at work.
Lastly, here are some plans for improving the Compendium of Catastrophes.
It should be more positive. In particular, the sections of pure despair
should somehow be expanded into helpful psychological advice. Knotwilg's
frustration equation will have a place of honour. I also want to plunder
Richard Hunter's excellent books. I only understand about the first 10% of
each book, so the plan is to distill the bits that I do understand into pithy
statements that will prompt my memory. Incidentally, this is one reason for
not publishing the whole Catalogue: it shamelessly incorporates other peoples' work.
This is OK for private study, but not for publication. (The extracts given
in this forum are mostly my own work, leavened with an occasional quotation.)
I have also been compiling material concerning the common situation shown
below.
Attachment: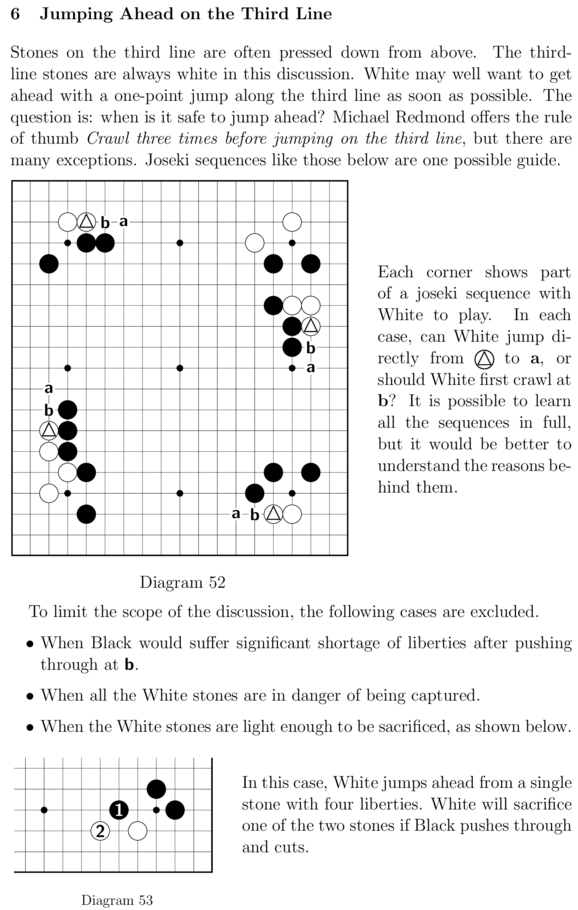 00-jump-ahead-2.png [ 215.06 KiB | Viewed 3284 times ]
The analysis which follows in the Catalogue is still a mess. For what it's worth, here is a shortened version.
1. Assume any forcing moves by the opponent have already been played before counting liberties.
2. If the white stones have fewer than 5 liberties, jumping ahead will result in at least
one white stone being captured if Black pushes in.
3. If the white stones have exactly 5 liberties, Black will be able to push through and
squeeze.
4. Above 5 liberties, much depends on how much space there is at the other end of the
white stones, whether that space has any value to White, and whether either side can grab it.
Any suggestions?
Edited
on 10 March 2020 to remove reference to quarantine, caused by a misremembered post.