I've been taking a look at some of my old OGS games with KataGo, including my epic win against breakfast. As I expected, it was a generally high quality game, KG's score was never more than +/- 4 points either way, and most mistakes from both of us were less than 1 point or 10%. Interestingly the biggest mistakes it found I don't recall noticing at the time, and Michael Redmond didn't identify them either:
- black (me) -40% or -5 points, s3 atari should instead r4 atari and allow white gote life in corner and then defend at o16. In the game my attack on the weak group he made there did give me some attacking to do in the middlegame which was likely decisive (as probably breakfast is less likely to lose in a boring yose game), but also I did lose lots of points and have to miserably connect on the 1st line there.
- not a single move, but I correctly identified white's g14 reduction as an overplay and cutting that off was the middle-game turning point of white's 2-3 point lead to my 2 point lead; white -50% or -6 points over moves 110-122 moves
- move 229, we both missed his endgame tesuji for a 55% or 3 point swing which was his last chance to reverse the game from a narrow win for me to him.
- but my 183 timesuji wasting toru's amazing corner aji only got a -5%.
Attachment: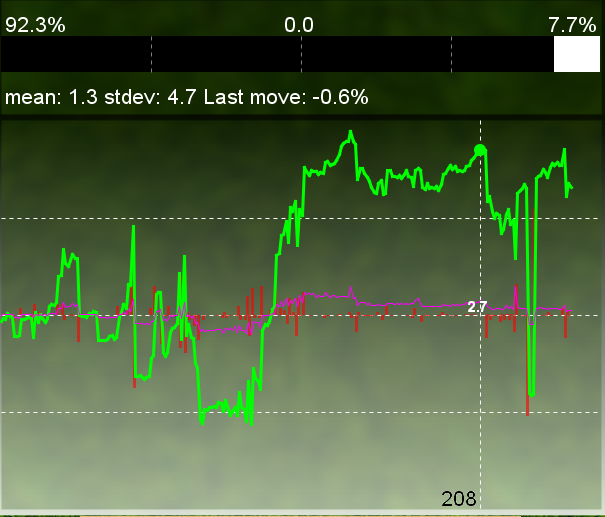 vs breakfast kg graph.PNG [ 194.69 KiB | Viewed 2037 times ]
Here's how KG rates Redmond's review:
- The result on the right was good for black who got some nice territory and white's influence could be a weak group. Instead of the fancy q13 he preferred simple 2 space extension to r12, then r14 p9.
KG agrees right result good for me, Redmond's 2 space a little better than Dinerstein's q13, but best was r14 approach and then taking corner when black splits.
B
- p7 should indeed have o11 peep and then continue at o9. This is Michael's attacking style.
KG's blue is O11.
A
- m4 could be h3.
KG says my m4 is blue, h3 is 2nd choice and <1% behind.
C
- Similarly he preferred e4 at h3, j5 e3 expected continuation and black nicely destroys white's territory.
KG says h3 is 2nd choice, h4 1st and e4 3rd. All close
B
- r2 at r4 was better and actually made it harder for white to make sabaki.
KG: r4 blue, by a few percent.
A
-
KG's 2nd biggest mistake of game s3 not identified.
E
- White o6 was too fancy, o5 atari, n4 n6 was better shape to come out to the centre. The result in the game with the aji of the o8 hane was good for black.
KG: o6 indeed one of white's biggest mistakes and o5 correct, but after n6 was not white's correct shape, but n5 l5 n7.
A-
- m6 at n8 was even better (then white m6 black p9). Black has a nice splitting attack going.
KG: Indeed n8 is blue, m6 was one of black's biggest mistakes at -15% or -2 points. But would continue with m9 m11 and then p9. If p9 directly white would m10 and it's 1% worse.
A-
- White's p18 was probably an overplay, but necessary as behind.
KG: p18 indeed bad, but not necessary as not behind, defending honte at o8 leaves white 0.3 points ahead with the 6.5 komi says KG. black would then o16 and white e6 annoys the black thickness that isn't really (which in the game I defended naturally by using o8 attack)
C
- Black m17 was bad, should n15 cap, allow white to settle in gote on the top side and then o8 cut for a powerful splitting attack.
KG: spot on, n15 is blue and black does continue with o8 after white gote at top.
A
- White g14 indeed overplay. It could be possible if he strengthened the shape below in sente (but that would also strengthen black) with moves like e9 sacrifice to get f10 and g9 in sente. Even so g13 probably more reasonable afterwards.
KG: indeed, the sequence from o8 to here was pretty flat winrate but this was -15% -1.5 points. KG likes k10.
B
- My b4 cut indeed a big loss of points.
KG only -1, doesn't seem to think the ko is profitable for black.
B
-
Not seeing b9 endgame double blunder
D
.
All in all pretty impressed with the correctness of Redmond's comments, particularly as this was a review of my game, rather than his own which he would put more thought into.
Whilst KG win% and point divergences aren't a perfect measure of the quality of a game (it's easier to make bigger mistakes in more complicated positions), for calibration here is KG's graph (green % line same scale, purple points scale is dynamic) for 2 top Chinese 9ps:
Attachment: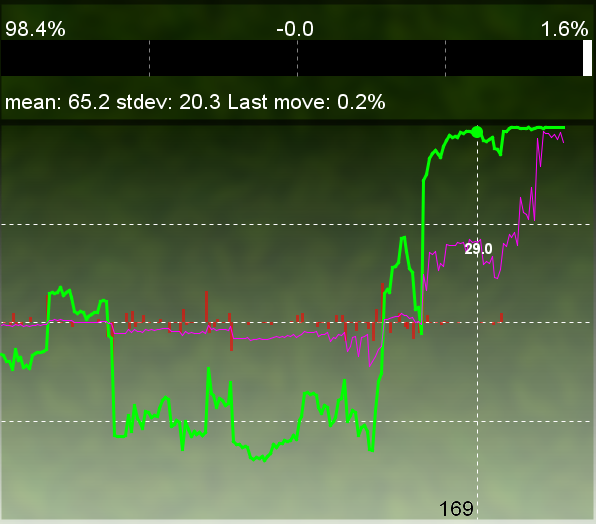 KG Tuo vs Mi.PNG [ 188.01 KiB | Viewed 2019 times ]