johnsmith wrote:
Right after it played the last move, I immediately opened "start review" but there were only 7 moves analyzed. So I closed it, let the anlysis finish and then opened it again. And just then there were all the moves. So I was confused... it first calc-ed answers to my moves (up to move 12), then went back to move number 7 and calc-ed 7,8,9,10,11,12? Does it lose previous calcs that way? Cuz it may had an idea when played certain move, but had to find it again? Or it just cal-ed 7,9,11 beacuse 8,10,12 were stored somewhere?

What happened is that you had 2 instances of Leela running at the same time on your computer (so they where not at the same game move). One that was performing the analysis, and one that was playing as white (with the second in advance because it does not have to analyse black moves). In this case, yes they won't necessary agree on the best move.
If you want to have only one instance, you needs to select the bot that is labelled "
Bot used for the analysis
(XXXXX)":
Attachment: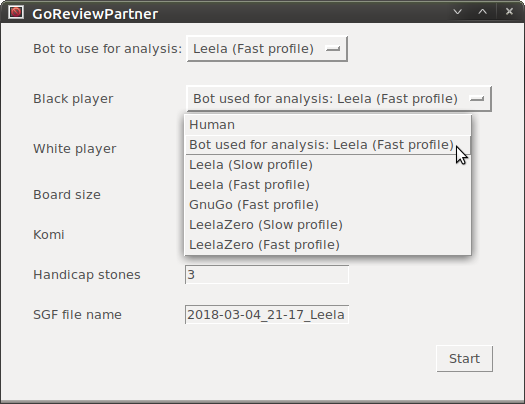 live_img0.png [ 35.98 KiB | Viewed 500 times ]
The drawback in this case is that you have to wait for the bot to finish the analysis of its move AND your move before it continues playing

So it's fine only if you take much more time thinking about your move than it does. (<- which is the case for me

)
Note that if more than one bot has to be used, then you will see the option to make sure they don't think at the same time appears (see, the check box "
No overlap thinking time
" is not on the first image above):
Attachment: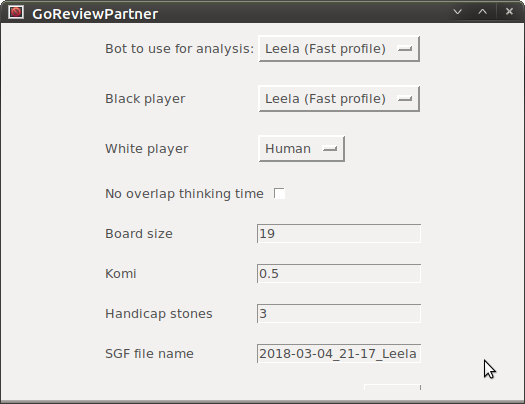 live_img1.png [ 25.72 KiB | Viewed 500 times ]
At the beginning, I had considered something like you say: play move 12, then go back to move 3 for the analysis, then move again to move 14 if the opponent played move 13. But yes, it's a big big headache.
In fact, I already had a very very hard time implementing the "Undo" feature considering the analyser and the players "work" on the same SGF tree (players extend the first branch, analyser adds other branches at each node, so one need to be careful when removing nodes of the first branch).
The way I am using it now is having the slow instance performing the analysis, and the fast instance playing white or black. I don't use the thinking time limit any more, only the playouts limit from the command line. Plus, on Linux (but should be doable on windows) I set the analyser instance as a low priority process, so it won't slow down the fast instance. But because I use a playout limit without time limit, the quality of the analysis is still the same.
Quote:
Edit: I should probably just use human vs human in live analysis (just like last night) and everything is just perfect

Yes, Human VS Human is what I imagine as "spectator mode" or "kibitz mode"

There are still plenty of work in progress before the next release, I have plenty of things to polish, and I will have to spend time on the documentation as well.
_________________
I am the author of
GoReviewPartner
, a small software aimed at assisting reviewing a game of Go. Give it a try!