Hi!
So I have been thinking hard about how to improve the interface, especially how to make that left side board more useful. This night I came up with the following idea (I even get up in the middle of the night to sketch my ideas on paper

) and I would like your opinions on it.
(the following pictures are patchworks of cropped screenshots, nothing coded so far)
So basically, I would like to use a "tab" system, à la Firefox:
Attachment: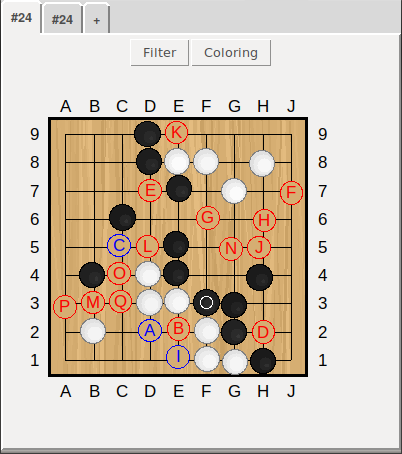 img0.png [ 30.52 KiB | Viewed 407 times ]
At any time, there would always be at least those two tabs available:
The first one is the one above, that corresponds to the current right side goban. It shows the current variations from the computer. Two buttons are available Filter that would be used to filter what variations are displayed (the existing "display only of computer move is different than actual move", and an interval filter based on delta) and coloring (the existing "only winning variations in blue" and similar). The same "filtering options" would be made available when converting from RSGF to SGF.
The second tab that would always be available is the one below, equivalent to the current left side goban. This goban is mainly used to display the available maps (I plan to add a heatmap feature) and to play out variations manually. Not bot available on this tab:
Attachment: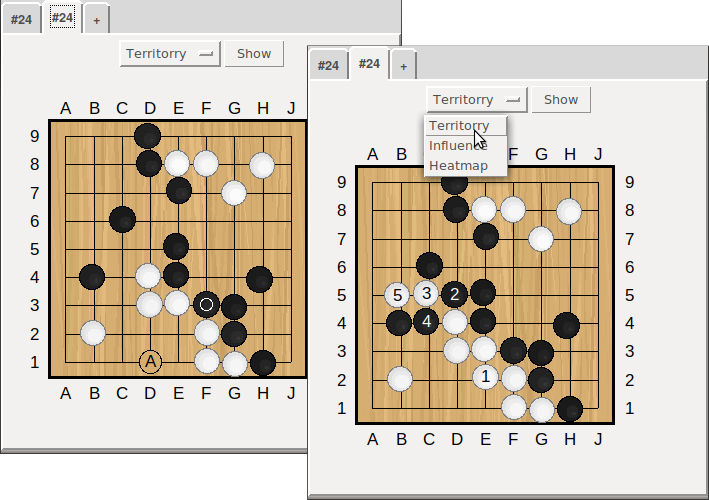 img1.png [ 55.03 KiB | Viewed 407 times ]
Those two tabs would always be available (impossible to close them). When you click on "next move" (or "previous move" and others...) they move along with you. So they are always synchronized with the navigation bar and the left side panel (the panel with comments and table).
Then, there would be the possibility to add more tabs by pressing the "+" button, just like in Firefox.
This would add more tabs, that are equivalent to the "open position" goban:
Attachment: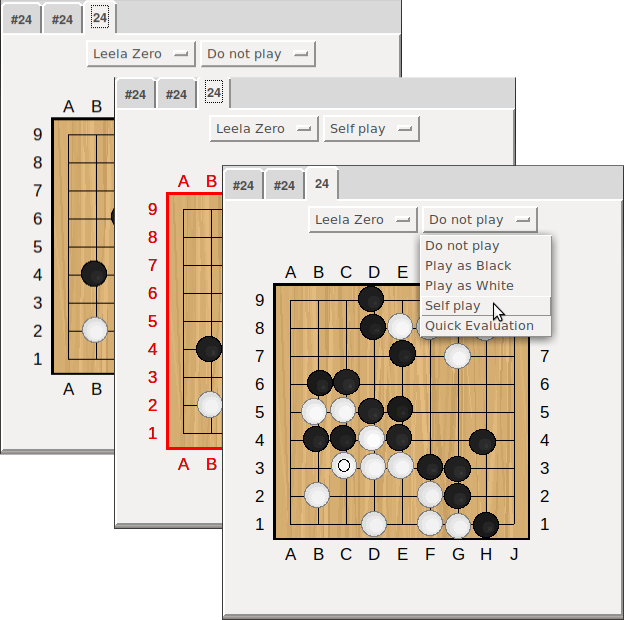 img2.png [ 58.56 KiB | Viewed 407 times ]
Just like in the actual version, there would be the possibility to open as much tabs as one needs. Those tabs would offer the possibility to play against computers. I will find a way to only "load" the bot "on demand" so that opening more tabs does not eat too much memory (this has the disadvantage to make switching between bots slower). Just like in Firefox, it would be possible to close those tabs (but I haven't represented a button for that yet).
I am limited in the number of image per post, so I will continue in the next post

_________________
I am the author of
GoReviewPartner
, a small software aimed at assisting reviewing a game of Go. Give it a try!