---
Hi everybody!

Almost 8 months after v0.14 finally comes v0.15 !

So, here is the list of changes for this new versions:

Support for Pachi: I had been willing to add support for Pachi for a long time, and it's finally done. You may be surprise: "why Pachi? it's not even top pro level!" well that's true, but I am among the people thinking that a good teacher should be a few stones stronger, no more. Pachi fills the gap between GnuGo and Leela. Plus, Pachi plays consistently well for all sort of board size, komi or handicap, as well as with computer without GPU. And this project is very active at the moment. I somehow got a little involved in this project, and even had a "pull request" accepted by the project (to improve working with GRP) which make me very proud
Support for PhoenixGo: This is support for the natibe engine. Some of you may be asking "but why? you can use converted weight with Leela-Zero!" well that's true, but why not? It is also an indirect way to support this project (I am a bit worried seeing LeelaZero eclipsing all other projects, more on this latter). One good things with PhoenixGo is that it is optimized to run on all sort of hardware (opencl, tensorflow, cuda...). Special thanks to github user wonderingabout that helped me a lot on this project. I don't know if he is member of this forum, it seems we are from the same country, more on him latter.
Possibility to add as much profiles as needed for each bot for example, different profiles for different LZ weights
Game review can now only uses one goban instead of 2 users have been asking for this for a while already, and I have to admit, one goban is enough most of the time
Support for GTP bots in live analysis: This is to have more choice as sparring partners in live analysis. You could want to play against Fuego (if Fuego is closed to your level) and have the game analyzed by Leela
Possibility to start live analysis from existing game position I use Live analysis more and more for training. This feature can be used to set a specific fuseki you want to train with, then start an analyzed game at that point.
Export to CSV also include moves for each variations so now almost of the information extracted by GRP can be exported to CSV.
Reading depth: I find out about this when adding support for PhoenixGo, and later implemented the feature for LZ as well. It's nice (can be humbling or reassuring depending of the situation) to see how far a bot is reading in different situation.
Possibility to play a sound when a stone is played - hidden feature - a mp3 file has to be indicated into config.ini file
Think_before_playing feature - hidden feature - it's a way to prevent me play immediately in live analysis games
Installation script for Linux - external contribution
Polish translation - external contribution
Other bug fixes and interface improvement

You can download windows ready packages at the usual place: http://yuntingdian.com/goreviewpartner/

There will certainly be bugs here and there because this project has grown so big that it's hard for me to test every features for all bots and so on. So I need your help to find all of them, and I will fix them as soon as possible.

Documentation is not updated yet, I will work on that this week-end. By the way, the documentation now has its own githup project, and the polish translation is on its way (so I guess I will have to make the french one as well): https://github.com/pnprog/grp-documentation

So a few thoughts on this topic, feel free to give your opinion, in this thread or in another thread

GRP was one of the first "review program" to come out (maybe even the first one?) following the sudden increase in bot strength in 2016. Then came Lizzie, and I could notice less interest for GRP. Which is normal: the real time aspect of Lizzie makes this tool much more appealing. But for some reason, since ~4 months, I witness a renewed and strong interest in GRP (questions, contributions, feature requests). I am not sure why, but my own opinion is that the latest LZ weights files are getting so big, that it makes the real time mode of Lizzie less appealing (big drop of playouts per seconds or something like this). Even if the level keeps increasing (at time parity) users are still interested in more playouts to have longer variations?
I mentioned above that I am a bit worry seeing LeelaZero project holding most of the attention and resources of the computer go community. Although I am very happy to see that this project is a huge success, at the same time, I see other projects suffering, either opensource (AQ, Ray) or commercial projects (ManyFaceOfGo, Zen, CrazyStones), to the points that they are close to extinction, or dead already On the long run, it might not be a good things. Diversity in software is a good thing I believe.
I mentioned github user wonderingabout above. If my understanding is correct, he has not programming skills. Still, he is very active on several Go AI projects, and is helping a lot by testing, and fixing/updating/completing the documentations of those projects. I just want to say that he is an example that could be followed by several members of the Go community. I got involved in Pachi development in a similar way, by just adding simple instructions on how to install Pachi on Ubuntu.

I had been very active developing GRP in 2017/2018, but suddenly slowed down since last September. That's because I was jobless at the time, and (finally!) found a job in September. So I have much less time to invest into Go or GRP, but there is no way I will stop working on GRP. To put it simply, GRP is the tool I need, and I keep improving it to improve my Go. A positive thing is that I just purchased a power full computer (AMD R7 2700X, GeForce RTX2060) I just received it today, and I am looking forward to put it at work

At least I will be capable to fully use all the features that GRP provides !
I also would like to spend some time learning a little of C++, because It's very frustrating to explore other projects codes sources (I did for Pachi and PhoenixGo) trying to find answers with my very limited understanding of C++

What I have in mind for GRP for the future:

Support for more bots! I haven't decided on which one yet, but I would like to start with Zen. I want to first contact the main developer to check with him if it's ok or not, because GTP is not a native feature of Zen (I would have to purchase one also). Why Zen? because users have been asking for it. Also, Zen is appropriate for Japanese rules and komi (only AQ can do that at the moment). ELF or Minigo are also possibilities, depending on how difficult it is to have then running on my computer. I am opened for suggestions anyway.
Keeping improving the code, improving interface, maybe switching to python3, maybe switching to another graphical tool kit, I don't know yet.
Any suggestions?
Attachment: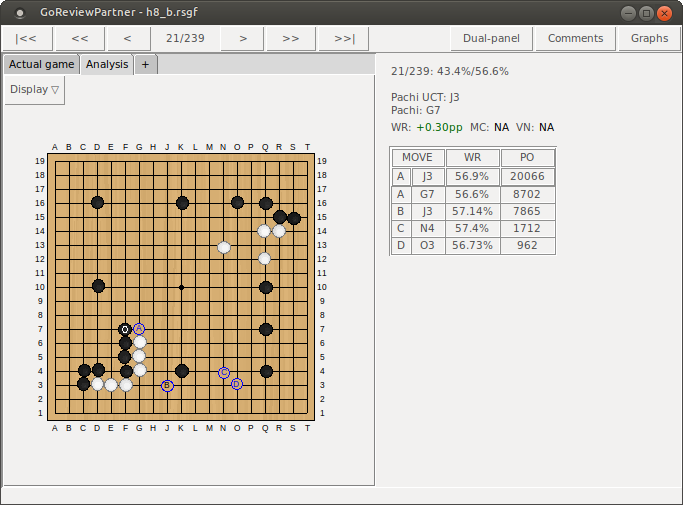 one_goban.png [ 53.38 KiB | Viewed 5199 times ]
Attachment:
reading_depth.png [ 18.67 KiB | Viewed 5191 times ]