Several people have requested some type of
Leela
integration for
Sabaki
, but it's not Sabaki's philosophy to prefer one engine over another. So I've decided to draft some sort of engine integration protocol for Sabaki as a GTP extension, so that any engine can tell Sabaki what to do (in a limited way). It's still in the works, but I've implemented something in the Sabaki v0.32.0 beta version.
Together with the new Sabaki beta, I've also written
LeelaSabaki
, a laconically named proxy to Leela, which extends Leela with the aforementioned engine integration protocol. Currently, LeelaSabaki only does one thing: Whenever a move is generated, LeelaSabaki will add other variations Leela considered to the game tree in Sabaki, along with winning statistics. It also works with Leela Zero.
Attachment:
File comment: Leela integration with Sabaki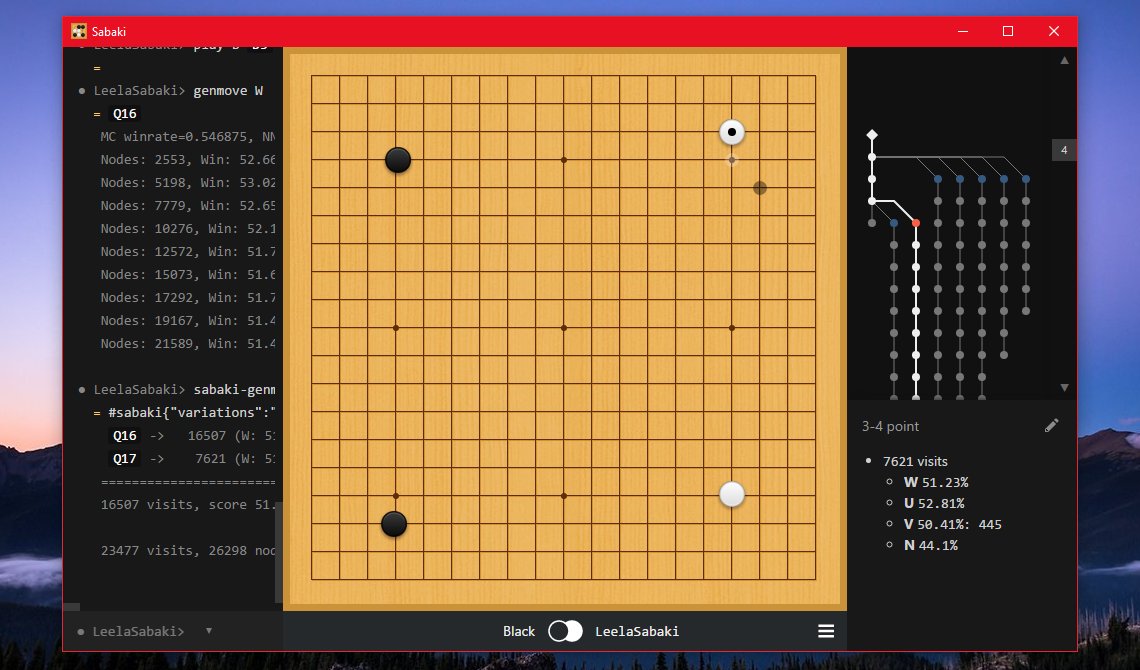 screenshot.png [ 489.7 KiB | Viewed 13451 times ]
I don't want to say any more about the engine integration protocol, as I don't want other engines to implement it just yet, because it might change drastically soon. But I'd be happy if you give LeelaSabaki a try; just follow
the instructions
and make sure you're using
Sabaki v0.32.0 beta
. Furthermore, I'm interested in hearing how you think Leela (or any engine in general) can integrate itself more with Sabaki.