At last weekend's meeting of our local Go club, I finally beat the guy I've been training to beat for so long. He has a style that revolves around jealousy and bullying you everywhere on the board. If you leave any diagonal, he'll cut you without reading it out. If you build any influence, he'll jump into it and try to erase it.
It's not a style I imagine many of you have trouble with, but I had a 0% winrate against him for years. He was the primary reason I started wanting to get stronger in the first place, and studied so hard. Because I wanted to kick his ass and turn him away from the dark side!
This last weekend, I did it. In fact, I'd blown so far past him that I was shocked at myself. I could see through everything he was trying to do, could read out fights and come out on top.
I played sanrensei to trap him into invading, knowing I wouldn't be aiming for a large moyo but instead was just taunting him into attacking. He took the bait, and tried to drag me into the mud as usual, jumping immediately into my 3-3 and then trying to "pincer" the wall he made me build. But I surrounded and surrounded, held fast, stayed solid, pressured his thinness, kept him cut off, and in the end he gave me so many stones with failed invasions and dead groups that I don't think he had any points at all.
I smiled, shook his hand, thanked him for the game, then when I went outside I jumped into the air and pumped my fists and went "YES!"
Dragon slain.

I did it. Maybe now he'll start actually studying, and take some of the pressure off of our newer members too!
I feel really good. It's starting to feel more and more like my club's cofounder, a 1kyu, might be coming closer to being within my reach. I think he's my next goal.
edit: This was our board at the end. I was Black, victory was by resignation.
Attachment: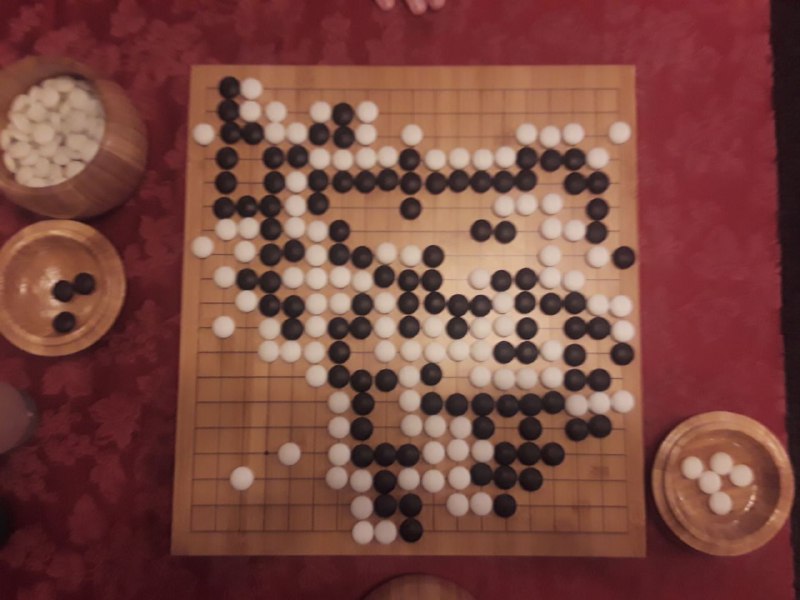 index.jpg [ 70.09 KiB | Viewed 1328 times ]
There are a few things I would have changed. If I'd gotten in a corner enclosure in the lower right earlier on, I could have maybe made the center invasion go a little easier. But it was already not a problem, really, and I was so busy making sure I was alive in the upper left that I didn't have time to go back and fix. I knew the kind of opponent I was up against, though, and I got him so I can't complain too much.
On the other hand, if White had focused on building, my strategy would not have worked and the game would have been much closer, prompting me to invade. But I knew going into this that that wouldn't be necessary against this guy.