gennan wrote:
I can only guess what AlphaGo and pros are thinking
right - and as i said before, your guess is better than mine - and it's normal primate behaviour to "project", ie assume that when someone else does something, they do it for the reasons we imagine we would have if we had done it - this is the basis of empathy. It's also what makes magic work, when the audience simply cannot imagine how the magician pulled off his delightful trick - and it's what enables confidence tricksters like the Jekyll Island mob and their present-day incarnations to pull off dirty tricks when their victims have no idea that a trick is being pulled, as they did in 1929, 2008, and coming soon to a wallet near you.
Ever since 1971, when i started thinking about what language means, it's been a mystery to me how people ever manage to understand even half of what somebody else says, as natural language is so elliptical and the imaginary world inside anyone's head so intricately interwoven that the probability of misunderstanding is miles bigger than the probability of understanding. Actions speak louder than words, but Alfie's actions are based on icebergs so deep that not even Ke Jie can fathom her intentions.
And although Alfie - who is no more a thinking machine than ENIAC was, but like ENIAC, better at doing sums than human computers - has thrown a spanner in the works of AI by demonstrating that OR is as handy at Go as it is at calculating ballistic missile trajectories (the reason ENIAC was funded), it's still the case that an
Intelligent Plastic Machine
can project his mindset onto Alfie's behaviour to make some sense of her machinations.
It's a mathematical certainty that there is a truth about Go, even if it's equally mathematically certain that we will never know what that truth is, as there aren't enough atoms in the known Universe to build a machine to calculate it - but as the same is true of chess, who cares?
Be that as it may, evolution has programmed into us a relentless curiosity to seek the truth even when we know we can never find it; it amuses us to climb mountains for no other reason than that they are there, and even when we know that like the 5 pendulums, it's an utterly pointless exercise that does more to damage the ego than to stroke it (puns intended).
gennan wrote:
I see only one response by [AlphaGo and pros] after white 4 (=move 5 at E14). When only one move is possible for move 5, I see white 4 as a forcing move
Right enough, AlfieTeach only shows E14, although AT is heavily redacted (presumably by Fan Hui). It is far from obvious to me that white 4 is forcing - the Go mountain in front of me is like a sand dune, one step up and two steps down each time Christmas comes around and a few more brain cells go down the toilet.
Attachment: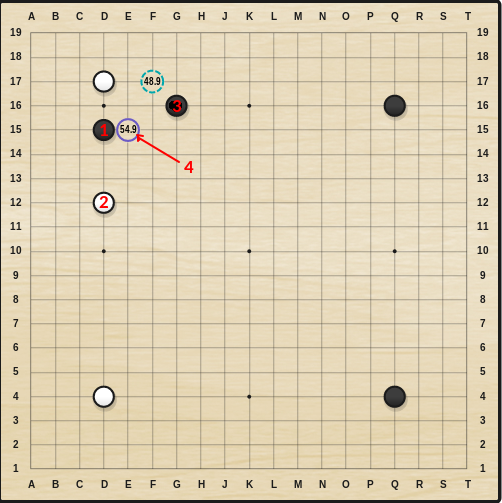 white4.png [ 274.63 KiB | Viewed 5006 times ]
gennan wrote:
I kind of understood that you wanted to considering other options for black's move 5 to take the outside instead of the inside
black's options for 5 did pique my interest, but it wasn't my original question, which was about black 3. To restate, whereas i guessed that black 3 indicated interest in the top, that doesn't mean i am a black and white person who would insist on the top with black 5, no matter what white does.
White 4 looks to me like white also "thinks" black 3 partly intends the top, and is a move to counter that intention. But that doesn't mean to me that black 3 was purely a decoy.
gennan wrote:
perhaps you weren't even asking me a question (or perhaps you were, but I got lost somewhere).
it's ancient history now, but my question was about whether black 3 could have 2 meanings.
gennan wrote:
move 4 .. is .. a "leaning attack".
now you mention it, i realise that Swim too sees it that way, although that perspective didn't occur to me (i didn't even think about what white 4 might mean until yesterday, and it hadn't occurred to me to consider the possibility of white 4 when thinking about what black 3 could mean. My foresight of
lookahead depth = 0
probably explains why Go mountain is for me a step too far).
Swim sees white 4 as an attachment to a single stone in a group (in this case, the group of just one stone: black 1) with the intention that while black defends, white can build outside strength preparatory to reducing a black moyo (in this case, the one formed by G16 and Q16).
Code:
to leaningattack (x from y)
do for block in x
where (adjacent (block, border(y)) and size (block = 1)
attach (y, block) or shoulderhit (y, block)
It's a side-issue, but AT says Alfie prefers F17 to white 4, despite her win% of it being much less. Maybe Alfie is an Alf Garnet Trump voter, choosing a second-rate but popular candidate, going with the flow, following the flock; like events in Europe, it's looking more and more like another of the JI mob's prestidigitations.
Q: What's the difference between Go and real life?
A: In real life, everything is connected.
"Who said that? The party chairman?" asked Bernard.
"Nearly right", replied Sir Humphrey, "Actually, it was Lenin".
Follow-up question: what, if anything, can AT teach me about white's invasion? at the time, i thought it was on the standard invasion point, but black went after it like a ferret; in retrospect i would say it was my losing move, and i should have prepared an escape route before jumping in so deep. i had played it as a sacrifice probe, but fighting spirit got the better of me and when a long thin straggly black group running into the centre finally made eyes, black's influence was overwhelming.
Attachment:
invade.png [ 477.68 KiB | Viewed 4993 times ]