Quote:
My hype went up in flames, so to speak.
Worse for him, though - his godown went down in flames.
I have a question for the AI buffs. Having posted the (semi-)review above, I bestirred myself enough to read some more of the book in bed. It was numerology stuff, and so more trials and tribulations, but a pre-bed toot on a magic harmonica instead of a flute gave me some inspiration.
Ohashi (I assume it is he - he just says "I") points out that the choice of whether to look at win rate or points difference (in Katago) depends on the state of the game. Points difference should normally be used as this is more familiar to a human, but AI is unreliable as regards points difference in intense fighting situations, such as capturing races and ko fights (and even may make inaccurate moves). Then you should rely on the win rate. I can follow that.
There is, however, I would suggest, a powerful psychological reason for preferring points difference, which he does not discuss directly. Herein lies my question. He shows graphs with both win rate and points difference, the lines superimposed. The win rate line often veers up and down wildly with huge fluctuations, making it look as if one side is far ahead it's not worth playing on, or that a player has made a truly horrendous mistake. Yet the points difference line typically trundles on, on an almost flat path, telling us that the game is really rather close, and any points change is in a range a typical amateur wouldn't even notice..
Ohashi says that, by the endgame, in modern komi go, if a player is leading by half a point, that may represent about 90% win rate. OK, but then he says, "If he loses 1 point, this will drop 80% and may become 10%." Forget the mix-up between % and percentage points - Japanese are as prone to grocer's mathematics as we are. But in my grocer's head, I say "losing a point in a half-point game means the lead switches" so I expect the win rate now to be 90% for the other guy. I assume Ohashi may have been a bit sloppy and omitted some detail about the 1-point mistake (sente/gote?), but I also assume that I have probably missed something. What?
There are a couple more statements by him that have not yet passed the Pearly Gates test for entry into my brain. One is: "In the case of no-komi go [where jigo is possible], if you make a 1-point loss from a win rate of 90%, you go down to 50%, or 0 points. To a mind used to counting as in modern go, when you look at the count in a no-komi game, don't forget that if it is a close game the amplitude of the swing is about half."
I can sense some sense in that, but basically it's smoke and mirrors to me. Can someone provide the baby steps to understanding?
A further remark: In the case of 1-point [no-komi] game, we can perhaps say that with a win rate between 25% and 75% there is a high probability that it will be a jigo." Again, I can feel an inkling of understanding, but a voice in my head says, "So what can we say about the 50 percentage points in that range - are they just statistical noise?"
Here are a couple of graphs. The thick line denotes win rate and the thin line is points difference. The middle dotted line is the 50% bar.
In the first case, we can see the possible psychological impact if we rely on win rate rather than points difference.
Attachment: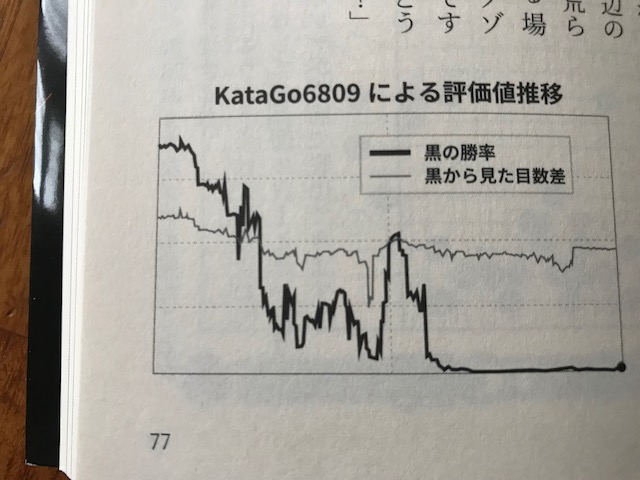 Ohashi1.jpg [ 70.21 KiB | Viewed 13952 times ]
In the case below, we can see that Black (Shuwa) apparently made not a single significant mistake. There are similar examples in other games, which is why I say the humans seem to come out of this book rather well.
Attachment: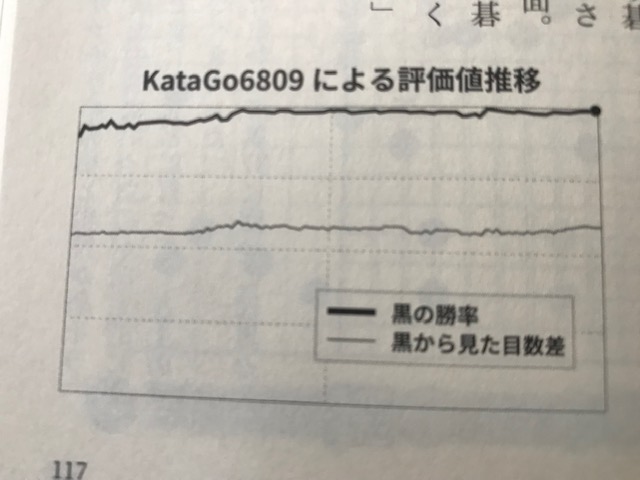 Ohashi2.jpg [ 50.54 KiB | Viewed 13952 times ]
But these graphs also reveal what I think is a defect of the book. There are no scale markings, and so it seems that in one of the above (non-handicap) games, Black started off with a bigger win rate than in the other. There are also no move numbers, and while it seems likely that the whole game is represented, we cannot be certain in some portions of the book. FWIW, in the case of the "complete victory" by Shuwa (then "at his peak" say the authors), the margin of victory was apparently 5 points, but the graph line shows a gradual increase, which implies the initial advantage to Black was less than 5 points????
Note: I can't find a way to turn the pictures round. They appear in the right orientation elsewhere on my system.