Ke Jie enters the scene at 6m44s in:
i am frankly amazed that a champ can be such a chump - but not as big a chump as the rest of us - the real sting in the tail starts at 9m45s, after the fat ladies stop singing (if you can call that singing!).
let's see if Swim can help out Ke Jie:
Attachment: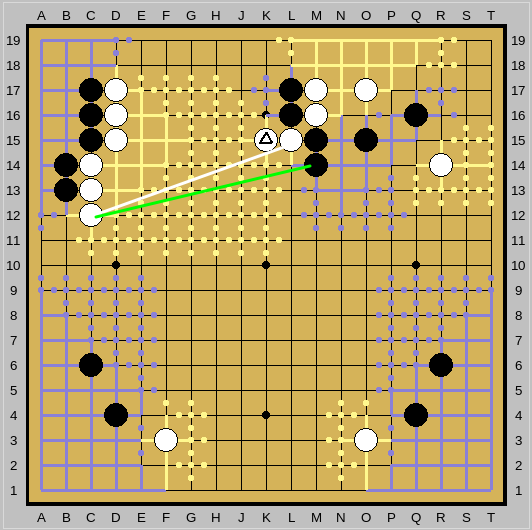 fakj.png [ 24.98 KiB | Viewed 8979 times ]
white's naked aggression seems to be working for him (i call Fine Art "him" because he is Jue Yi = Dewey from Malcolm in the Middle), for the shadow of the stone he just added to the cut reaches out to just touch the shadow of the white wall - and where shadows just meet, their clusters are working efficiently.
black's 4 stones in the top right don't look right to me either (too thin), especially as the sole white stone on the right has plenty of room for manouevre, but hey, what do i know??
let's pretend that both they and the white stone can survive, and that overall the game is fairly balanced. So black should
playsafe
.
as black, i would be looking to try to keep sente (which in my dictionary means "the initiative" and doesn't mean "forcing" like everyone else seems to think) so i can hop in between white's two too-uncoordinated stones at the bottom.
Black has more prospective territory already, so it would be a matter of hanging on to that advantage by denying white the chance to catch up, so neutralising the bottom would be a safe strategy.
Swim, on the other hand, sees it a little differently to me; she reckons the focus is on reducing white's top left moyo by playing on or across the green line.
But we both agree that Ke Jie's idea of chucking away the sente he has to try and save two worthless stones, presumably in the vain hope of attacking white's 3 stronger ones on the top right is worse than a complete waste of time, it's sticking his Rs into his own face.
Vanity comes before a fall, except when you're playing me, when it's me that trips over his own feet because i was never any good at details so am hopeless at Go. Even after falling down to the same tactic in this game:
https://www.lifein19x19.com/viewtopic.php?f=15&t=15395
, i (black) still don't know whether white was being a bully or a donkey. I suspect the latter, but as he succeeded, that makes me an even bigger donkey to let him get away with it. Help!