I'm currently in Korea at BIBA for a week after participating in the 13th KPMC. Today we visited the Hankuk Kiwon to support Blackie's team (Jungkwangjang, a Ginseng product) who were playing a match in the Korean baduk league. He's the team coach/manager which means he picks the players/board order. This team won last year (when he wasn't the manager!) but were currently in the middle of the 8-team field (see
https://gotoeveryone.k2ss.info/kr/kl/16
). The top 4 teams make the play-offs at the end of the season. Each match is 5 games, one of them slow (which means 1 hour and maybe 40 sec 5 times) whilst the others are I think some small amount of main time and 30 second byo yomis. The games are played in a TV studio in the basement of the Hankuk Kiwon in Seoul and there's a room next door with boards and TVs broadcasting the games for others to follow along.
Playing 1st board for Blackie's team was Korean wonderkid Shin Jinseo 9p (goratings #3), against Team Kixx first board Yun Junsang 9p (#34). 2nd board was Park Jinsol 8p (#68) in a tough pairing against Kim Jiseok 9p (#7) (maybe Kixx didn't put their strongest on first board as they thought he'd lose to Shin anyway so maximize chance to win board 3?). Blackie picked female pro Oh Yujin 6p (#156) to play the slow game, against Baek Hongsuk 9p (#75), over legend Lee Changho 9p (#105) who is also on the team but hasn't been doing so well recently, plus Oh recently beat him in the GG Auction cup event of female vs older male pros (I got to play a simul against Oh at the KPMC). These 3 games started first around 6:30, you can find the records on WBaduk, Tygem, Fox etc and game databases later.
Various other pros from the team plus friends were in the next door room following the games. I was interested to see that like the Chinese pros at the Changqi cup semi-finals in Cambridge, Korean pros were also using Lizzie / Leela Zero to analyse the game live. Shin was expected to win but actually was losing at various points in the game (LZ didn't like his sacrifice of 2 stones) but he was the first to win by resign. Park Jinsol also managed to beat Kim Jiseok in a see-sawing game which was a great start. Even though he wasn't playing Lee Changho dropped by to follow the games so it was cool to get to meet him too. Oh Yujin's game wasn't going so well when the other 2 games started with Kim Myeonghoon 6p (#43, a rising young player) and Han Seungjoo 4p (#92). Unfortunately they both started badly, and then Oh resigned so the good start wasn't looking so good anymore. Kim's game was practically over in the first fight said Blackie, LZ gave his opponent 98% but he recovered somewhat and then when his opponent played a solid pole connection allowing a squeeze there were muted squeals of excitement as LZ instantly identified it as a 30% blunder and the game was reversed. Much fighting and ko trades followed but Kim seized his chance and won the game. Han wasn't so fortunate so the end result was a 3-2 win. Here's some pictures.
The playing room, Blackie's team are in red (from closest: Park Jinsol, Shin Jinseo, Oh Yujin).
Attachment: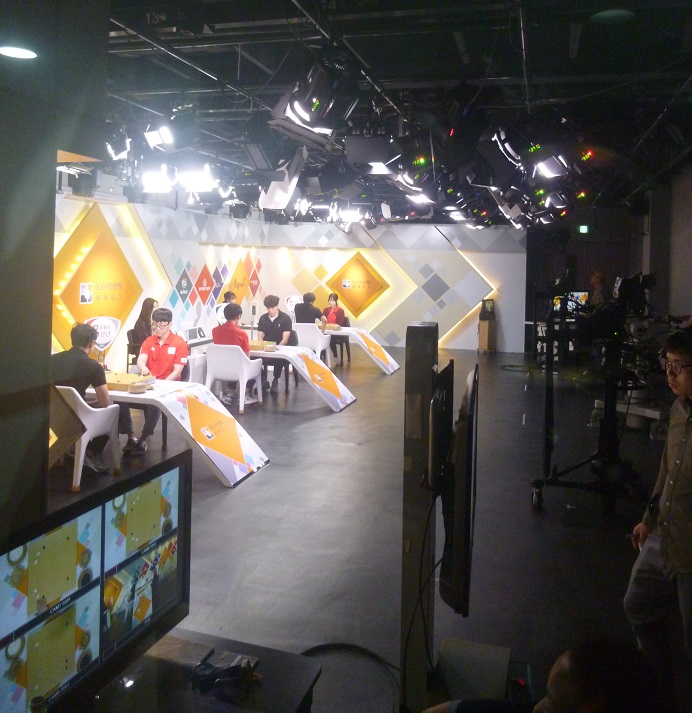 P1020204a.jpg [ 178.29 KiB | Viewed 10459 times ]
In the analysis room before the match started, Shin Jinseo is the one leading the discussion of various AI josekis on the middle left.
Attachment: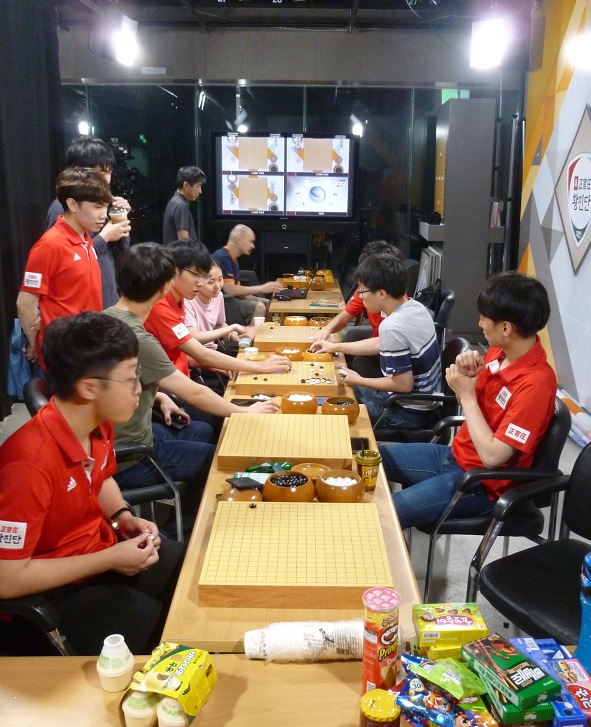 P1020202a.jpg [ 195.41 KiB | Viewed 10459 times ]
Some pro with Lizzie on his laptop (running remotely I assume as he was getting 70k playouts in sensible times), looking at a variation for Shin Jinseo not sacrificing the 2 stones.
Attachment: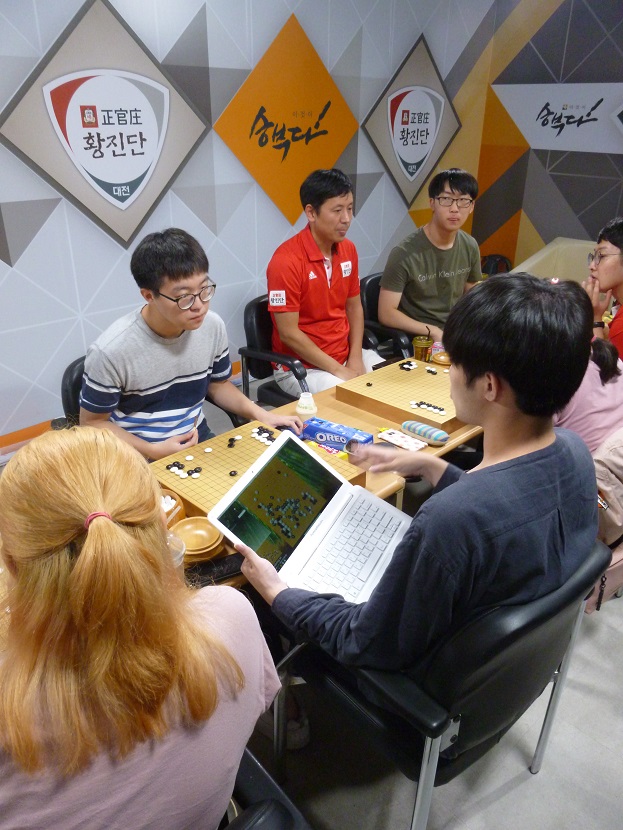 P1020206a.jpg [ 206.22 KiB | Viewed 10459 times ]
Lee Changho and Blackie analysing an exciting fight in Park Jinsol's game.
Attachment: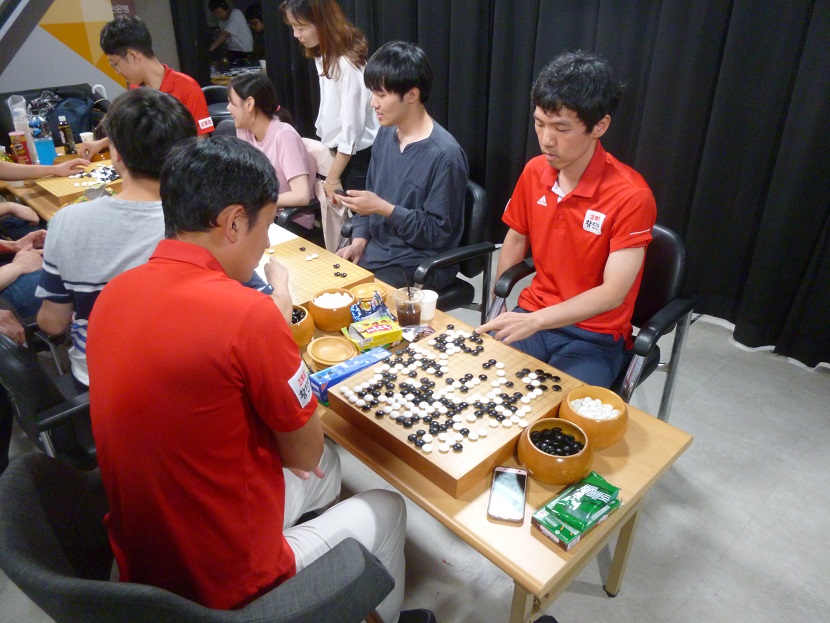 P1020211a.jpg [ 204.75 KiB | Viewed 10458 times ]
Blackie front left, Lee Changho front right, Shin Jinseo standing on left with fan, Lizzie analysis centre stage.
Attachment: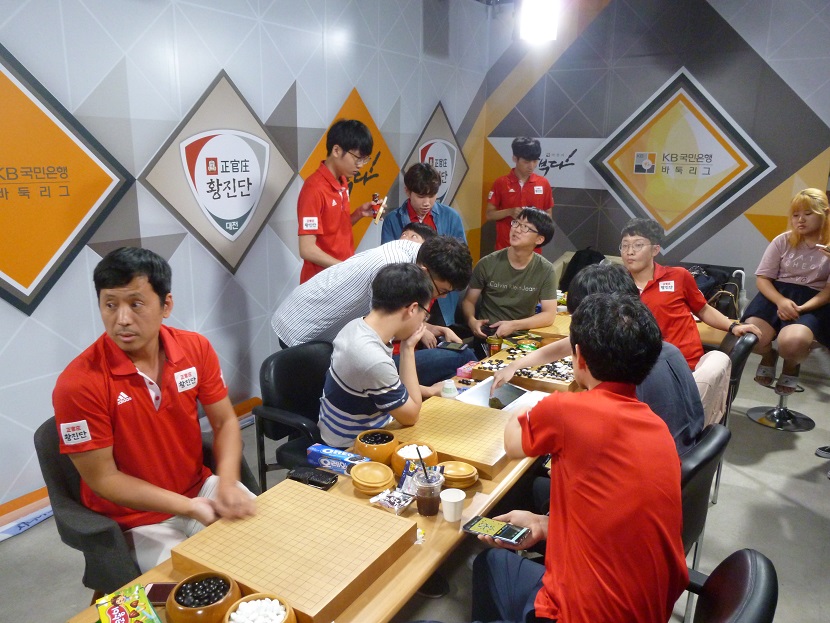 P1020212a.jpg [ 222.38 KiB | Viewed 10457 times ]
Shin Jinseo reviewing his game with Lizzie afterwards.
Attachment: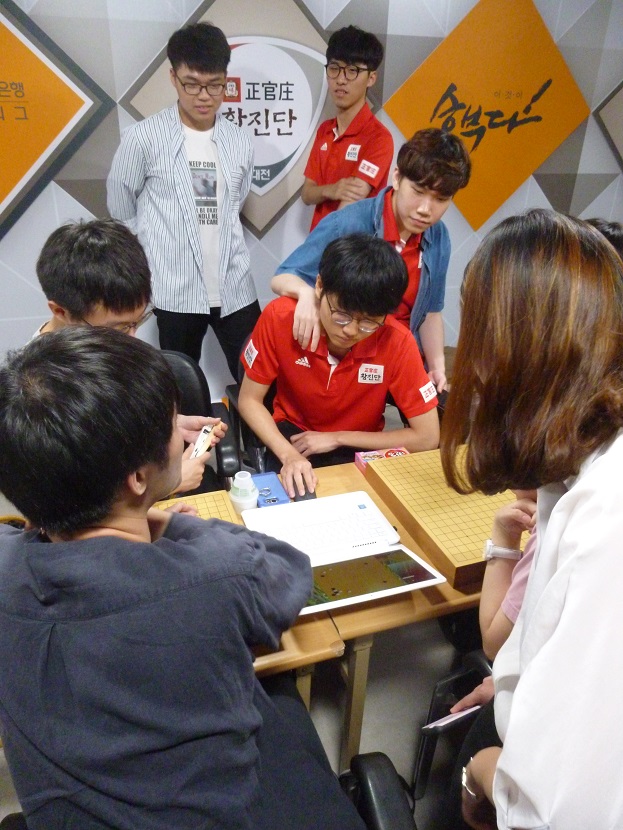 P1020215a.jpg [ 211.73 KiB | Viewed 10458 times ]
The BadukTV editing/mixing studio
Attachment: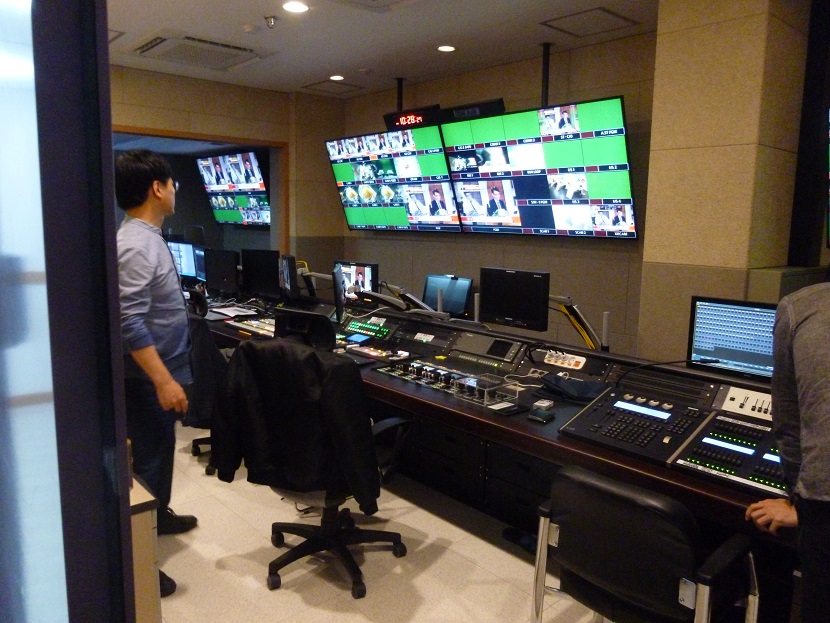 P1020224a.jpg [ 209.37 KiB | Viewed 10443 times ]