I want to try analysis of the game with more playouts. I find in my own games that analysis on the order of 25-50k playouts finds very different sequences due to it's more accurate reading. For example, I've noticed it can calculate long capturing races that are missed with lower playout counts. I think it also substantially improved ladder reading in most instances, which can alter the variations significantly.
Edit: I ran the first 250 moves through GoReviewPartner at 25,600 playouts per move with LZ#226. Results are similar. I am attaching the rsgf file, which may be opened with the software to see the top variations that LeelaZero recorded.
The screenshot shows the value network winrate in grey with black's winrate delta in red. The red basically shows how high black's winrate
would
have been, had they chosen LZ's optimal move.
Attachment: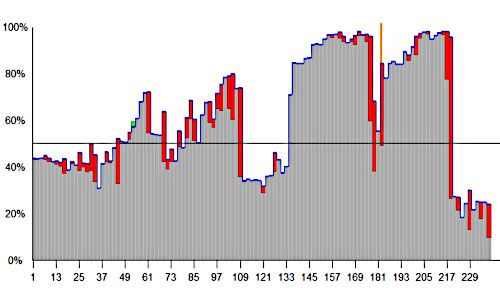 black delta sml.JPG [ 56.84 KiB | Viewed 2301 times ]