Sumire has just donned her first kimono for a special New Year interview of breathtaking banality - typical question: what do you like to wear when not wearing kimonos; answer: dresses. We learn she's 4 foot six and her parents call her Sumi-chan. This type of interview is common in the J-Pop scene, of course. Nuff said.
Only a couple of go-related answers caught my attention. One was that she prefers thickness over profit. That interested me because that hadn't come over to me in watching her games. my impression was that she preferred fighting over either thickness or profit, but she did at least concede that her style is "fighting" and that she prefers the middle game.
The other was that she listed her rivals. That list surprised me a little, not just the content but in the forms of address. The list was:
1. Fukuoka Kotaro-kun, who turns 15 next week and is trailing Sumire in the race to 2-dan. She is now on 18-15 (the target is 30 wins) and she is well ahead of everyone else except Terada Shuta who is on 18-10. But Terada is 23 and twice as old as Sumire, so it's understandable she didn't put him in her list.
2. Risa-pu, who is Ueno Risa and obviously her pal from the -pu ending. Risa is 14 and so is close in age. Risa is on 12-10 in the race to 2-dan.
3. Kosumi-chan. This is Cho Kosumi, the player, also 14, with the best pedigree in go bar none: great granddaughter of Kitani Minoru, granddaughter of Kobayashi Koichi and Kobayashi Reiko, daughter of Cho U and Kobayashi Izumi. But she's on 0-6 so needs still to get into her stride. She only came on the scene this year, so hasn't had much interaction with Sumire.
4. Xu Jingen-kun. From Taiwan (the Rin Kaiho Institute). He'll be 14 on Boxing Day and is already 3-dan. The mainland Chinese have got their eye on him.
5. Wu Yiming-san. She's just about to turn 14, too. Now 2-dan, she beat Sumire in a special match in China a year ago to earn an invitational place in the LG Cup, and they seem to have struck it off with each other, Sumire regarding Wu as Big Sis.
And that's it. No mention of Kim Eun-chi (the alleged cheatress) or any other Korean, despite the fact that Sumire has now been to Korea seven times. And thankfully no mention of any rivals with the -obnoxious tan suffix (translatable as "fellow geek").
While we are on names, it may be worth mentioning another name for Sumire: Peko-chan. Look at the photo below and you'll see why.
Attachment: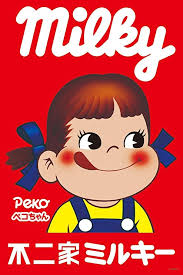 Pekochan.jpg [ 15.29 KiB | Viewed 741 times ]
Peko-chan biscuits have been around for quite a few years now, and there's even a cult for collecting "biscuit dolls" at high prices. The Peko-chan biscuits themselves are just biscuits with her face on them, but the dolls are plastic figures. There's a male equivalent. Poko-chan. (Peko is a word associated with being famished in Japanese BTW)
They are not unique but Peko-chan has come into the forefront lately for two reasons. One is Sumire's emergence, of course, but preceding that was the sponsorship, from 2017, by the confectionary company, Fujiya, of one of the top shogi tournament, the Eio (which can be translated as King of the Eggheads). This in part was inspired by the emergence of a young genius in the shogi world, Fujii Sota, who captured his first big title at the age of 14 just a few months ago. Fujii burst on the scene as a new 4-dan pro by winning a record 29 wins on the trot. Shogi pros start at 4-dan. That reflects the old days (in both go and shogi) of live-in pupils when a new pro-grade player had to turn over all his prize money as a 1-, 2- or 3-dan to his teacher as part-payment for his tuition. Shogi chose to mark that distinction formally. So if we extrapolate Fuji backwards to 1-dan, he would be comparable in age achievement to Sumire. He has ignited a boom in popularity for shogi (which has always been more popular with kids anyway), and Fujiya jumped on the bandwagon. Gaudy boxes of their products are placed beside each player during games. They seem to remain untouched but the PR guys at Fujiya get round that by stressing the players are allowed to take the boxes home. Peko-chan also pops up in shogi-related imagery, holding a biscuit in one hand and a shogi piece in the other. The biscuit is meant to be the main item so is in the right hand. That has led to shogi wags pointing out that Peko is a "southpaw".
How log will it be before Fujiya jump on the go bandwagon via Sumire? She said in her interview she likes Peko-chan. Hint, hint.
Somebody asked for an update about the foreign 1-dans in the Nihon Ki-in recently. Chang Fukang (Malyasia) is on 2-3, Ratif Fitrah is on 1-3 and Antii is on 0-8. Generally almost every 1-dan struggles massively (viz. Cho Kosumi). People like Sumire are the outliers.