Nice sense of the centre Bill, though with the cut present Elf thinks it's a terrible move (-32%, not quite as bad as Lee's g15). It did like that area though a few moves earlier when there wasn't a hot cut for the taking. It then expects black to play t4 and q5 as sente yose on that white group and then (or directly after more playouts) to come into the left side, interestingly at c13 rather than c14 approach.
Attachment: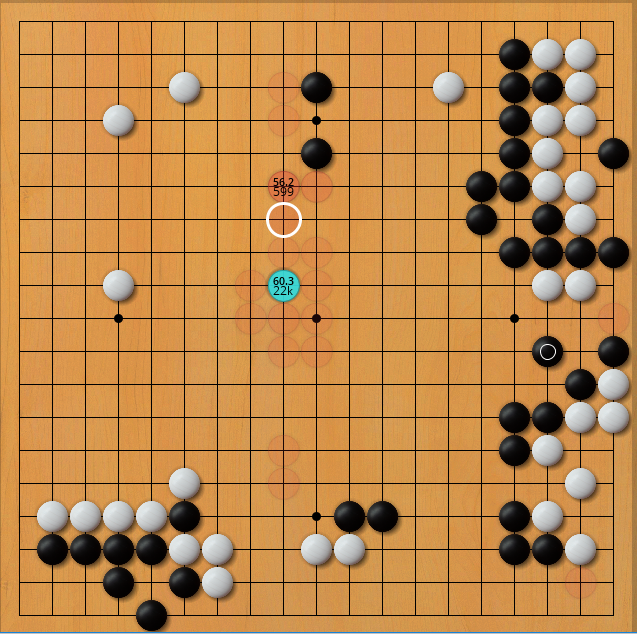 Donghoon centre1.PNG [ 709.01 KiB | Viewed 1951 times ]
But rewind a few moves to before white made the t8 exchanges to help that group and Elf changes where it wants to play in the centre: either shoulder hit or attach at the top. First of all, why is the last move at j11 not so good (-6%) now? It expects black to q5, r5, t7 and then tenuki to a 2-space jump to j8 or j14. Because j11 wasn't a contact move / shoulder hit it was easier for black to tenuki as there is no strong follow-up, and because white hadn't yet made the t8 exchange black has better play against that group (not a clean kill, but a more miserable ko-life for white).
Attachment: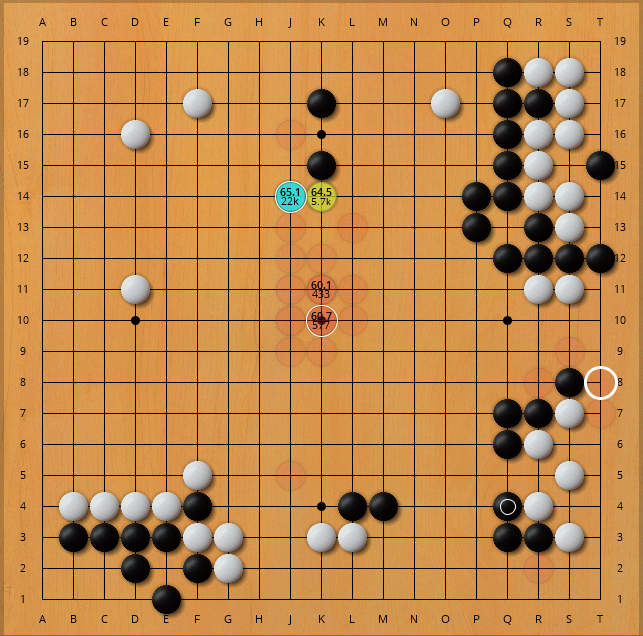 Donghoon centre2.PNG [ 721.28 KiB | Viewed 1951 times ]
So how about the attach? Black extends solidly into white's moyo, white plays a light knight move, black tenukis to q5 again and white extends at the top, black invades (c13 not c14 again) and white make the s9 exchange which is telling (because white hasn't made the t8 exchange it is easier to sacrifice this group and still get some value from it and the r11 stones). Note if black didn't tenuki for 4 but hane at 5 then white counter hanes and lightly jumps to k12 (or even Bill's k9!) if black solid j14 atari.
After 20k playouts Elf moves away from the fancy light knight move and just goes for the simple solid extend, which black counters with an impressive attachment which somehow is a good exchange before the natural (to me at least) chasing knight move.
Playing the knight move directly was only a little (1%) worse, but the reason for the attachment becomes clear if you let it play out the sequence: it sets up the creation of a cut and a driving tesuji to help the chase of the centre group (white's cut might seem like falling for the bait but it is a big territory, the centre won't die, and to not cut would be slack). (It takes a lot of playouts to decide the shape-making move at m11 is better than the k9 jump).
How about the shoulder hit? Elf's instinct is to counter with another, at g16, but then decides pushing and taking sente for q5 again is best, and we get Bill's k9 spot and then the c13 (not c14) invasion.
P.S. hyperpape, yes f12 too loose, doesn't stop black's sabaki on the left with b11 or c11, and doesn't defend the cut either. Elf did like to attack them at c12 earlier though instead of the j16 peep, I guess Lee didn't like that as being too small scale.