A thread for miscellaneous musings on the opinionated Elf (Facebook's bot).
First up, the latest version (Elf v1 not v0) thinks black is better (52% +-1 I'd give as the error) on the empty board with 7.5 komi, which differs from other strong bots (AlphaGo 46.7%, Leela Zero #157 46.5%, FineArt 41% apparently, Elf v0 49.2%). It also believes diagonal 4-4s is good for black, so for white to play move 2 as 4-4 in an adjacent corner to black's first 4-4 is a slight mistake, -1%. But to play 3-4 in an adjacent corner is a huge mistake, -8% after 50k playouts (it started at -11%, I wonder how much after more); Kajiwara would be proud "move 2 lost the game"! (picture below shows 3-4 not facing the 4-4 which is more common in pro games whereas Kajiwara's was facing it, Elf thinks his 2 is basically the same). The reasoning seems simple enough (if not the size of the mistake), black plays diagonal 4-4, white takes last corner, and then black has sente to (low, of course) approach the 3-4 which is tedomari. Or after more playouts black uses his 5th move to 3-3 invade the 4-4 in sente, and then approach. Interestingly, a pattern search of human pro games also rates it poorly at only at only 45.6% (a real win%) despite being the 3rd most popular choice (15%), whilst the adjacent 4-4 is most popular (50%) and has a healthy 50.5% win. Diagonal 4-4 is just a little behind at 49.6%. Human pros keep playing this 3-4 move, and AlphaGo teach doesn't think it's bad, but I wonder if Elf and the wisdom of pro crowds are onto somthing.
Attachment: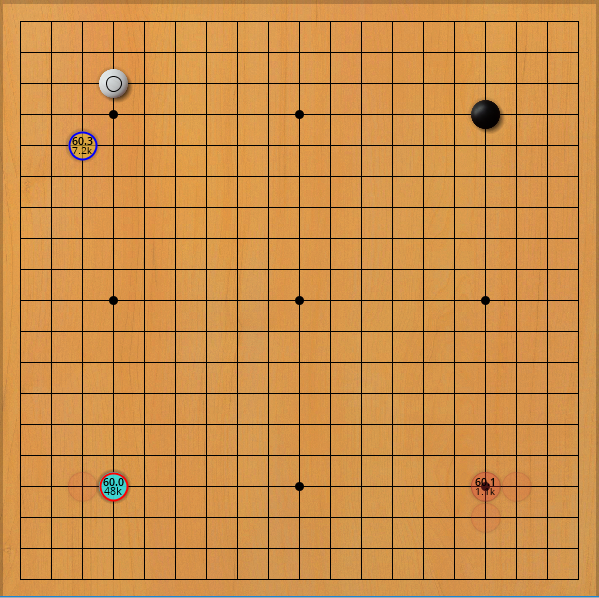 Elf mv2.PNG [ 581.61 KiB | Viewed 1809 times ]
If we have parallel 4-4s, Elf v1 likes to outside approach or 3-3 invade slightly more than inside approach, but its view of white 6 shocked me. Backing off with the knight move, AlphaGo Teach's best move, a perfectly decent move for Leela Zero #157 (though switches to lower right 3-3 after 30k playouts but knight is less than 1% minus) and the most common (and healthy win%) human pro move is barely considered and seen as a big mistake, -7%. Instead if thinks white should approach black back (and lots of ignored approaches follow).
Attachment: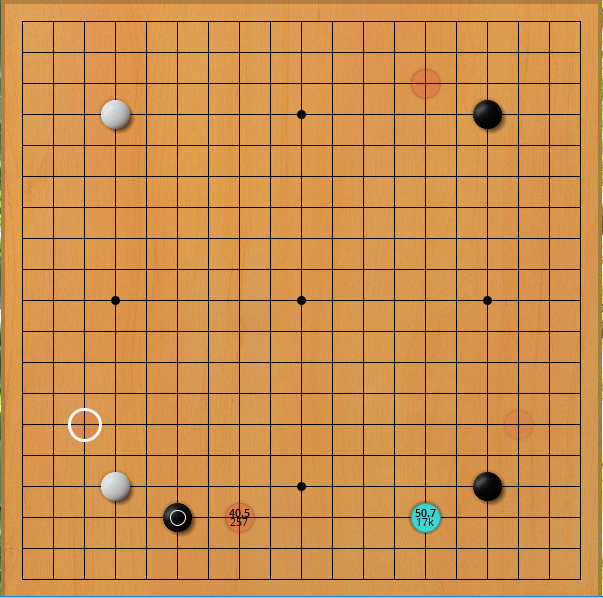 Elf mv5.PNG [ 595.97 KiB | Viewed 1809 times ]
So what should black do to take advantage of white backing off and giving black sente? (not needing to add a move to the approach stone after knight answer is the new normal). 3-3 invade of course, and this is something AlphaGo Teach and LZ agree on, though they don't share Elf's opinion it is good for black. If white does the common jump (as AG and LZ like, Elf thinks it's a mistake, that's for another post) instead of hane after push then Elf thinks white should keep extending and take gote, rather unusual these days to allow the 3-3 invasion in sente:
Attachment: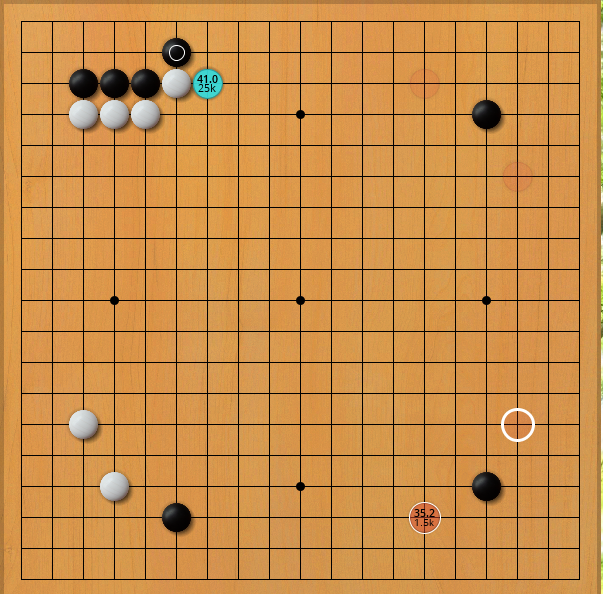 Elf mv13.PNG [ 600.5 KiB | Viewed 1809 times ]
If white does tenuki then, unless it is a strongly sente almost contact move like 3-3 invasion (knight approach isn't sente enough) then Elf thinks it is worth spending a move on and good for black to continue with the atari and descend at the top left corner. By playing around with some other positions, Elf seems to think this shape isn't joseki but good for black.
Attachment: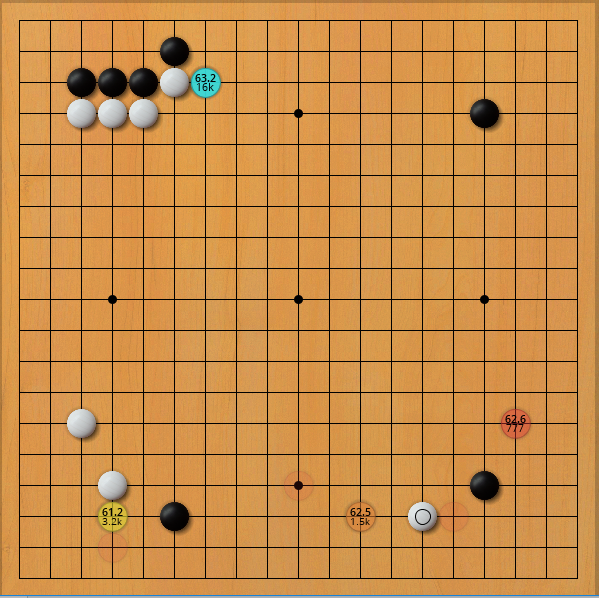 Elf mv14.PNG [ 597.11 KiB | Viewed 1809 times ]
Here's a recent game I played on Fox based on this idea, which thanks to my opponent's co-operation ended up working rather well for me.