mhlepore wrote:
we need clarification as to whether there is a stone missing somewhere.
To
irgo
is human, to forgive Divine
So i forgive you Doubting Thomases, O ye of little faith. Let he who is without Sin cast the first missing stone into the bowl of
Liff
, and let us pray to Go (swt):
Quote:
Dear Go, ooo you are so big! Forgive us our trespasses, as we forgive those that trespass against us
As naught but a mere concubine of Go, i too struggled with the Count, and had to backpedal a couple of times when creating the .sgf, because i too had forgotten to consider the possibility that it was a 2-stone handicap game.
Having sorted that out, i was then forced also to rub out the pesky last move marker which cgoban insists upon adding like some thief-in-the-night Banksie stealing the beauty of a virgin wall and turning it into an eyesore, because that blasted dot attracts the eye more sharply than any liberty or lack thereof. And the last thing i wanted to do was ruin the beauty of the author's problem by attracting the reader to one particular part of the board - although, dare i say it, that esteemed author had herself ruined its beauty by putting "a, b, c, d", etc in various places that i'm not going to tell you about until later.
As to the kafirs' accusation that F16 is not a gloriously empty sky but a tawdry white aeroplane (the only real aeroplane in the entire sky apart from a few fakenews helicopters, none of which went around the back, for obvious reasons), i say unto them:
Quote:
Chide not the straw in another's eye, for the mote in your own is so much greater
.
But that does at least give me a heavensent opportunity to justify a complaint against the Gods that created this Palace of Untruth Yoseing About All over the Place, for denying us the Right to
Fork Off
a branch so as to not derail the monorail of fucus on the One and Only True Topic, which is, since you will all by now have completely forgotten what that was:

======= black to play... ======
(and no cheating by asking Laizy to Ease your Use, as i will do that for you in a moment
and - GOLDEN RULE: No talking about each other's moves, not yet,
and - pretty please - will the ones sitting at the front shut up for a minute and give the ones at the back a chance to speak)
Attachment: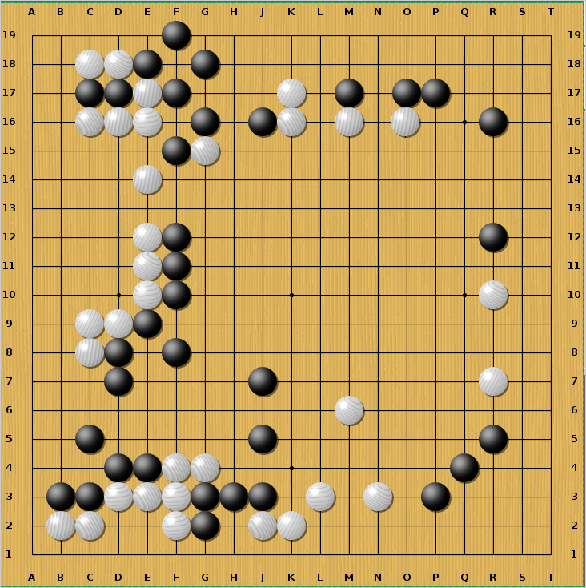 18.png [ 207.96 KiB | Viewed 7825 times ]