Having ladders as an input feature, KataGo seems to handle this position okay, but not perfectly.
So, firstly, if taking the position as given, KataGo's score maximization instinct is nowhere near strong enough to prevent it from backing down and simply accepting a 99+% win rate. Either backing out at the point at my earlier post...
...or in any number of variations where white *does* try to push out and where black tries to play some struggling moves on the white lower right group like shown, or even running out the ladder at 'a':
... and where KataGo lets black get away with having a ko, or other things!
Because, White still ends up (in its estimation) 40+ points ahead in these variations with 99+% winrate. Its score maximization instinct is nowhere near strong for it to seek *even more* score given all these easy ways out that lead to a game already ahead by so much for white. So it's happy to let black get away with something.
In some lines (including where white goes back down to 3 liberties), the fact that black is trying all of these distractions suggests that black knows that trying to resist directly won't work. So presumably it has an idea of the tactics, it's just that white is sort of indifferent to accepting them to simplify the game given how far ahead white is, so it's hard to actually see the relevant variations that have been rejected.
So let's modify the position to make white unable to afford to accept any of these simplifications to get more clarity on the tactics.
We give black 3 more free stones AND a reverse komi of -25 points. Now, white actually wants to play sharply. Running for a few thousands to tens of thousands of playouts from this position, here's roughly the tactic that KG is seeing through the entire time (sometimes it wastes some ko threats for black in the lower right, but ignoring those):
And now a and b are miai, so white breaks out while black kills the 4 center white stones. This looks like a legitimate way to break out that doesn't involve the spiral ladder. It also means that white's left side group is unattackable afterwards, but it makes black very thick in the center. With a -25 point komi, white is actually still behind.
If I give it 110K+ playouts on the original position, it finally searches Uberdude's move enough to realize it likes it even more, and by quite a bit more, 15% ish better.
As soon as this move gets a few thousand playouts, the tactics are basically solved (although black still wants to waste ko threats in the lower right). You can see this in the ownership map in Lizzie here, for what regions it's expecting white to own.
Attachment: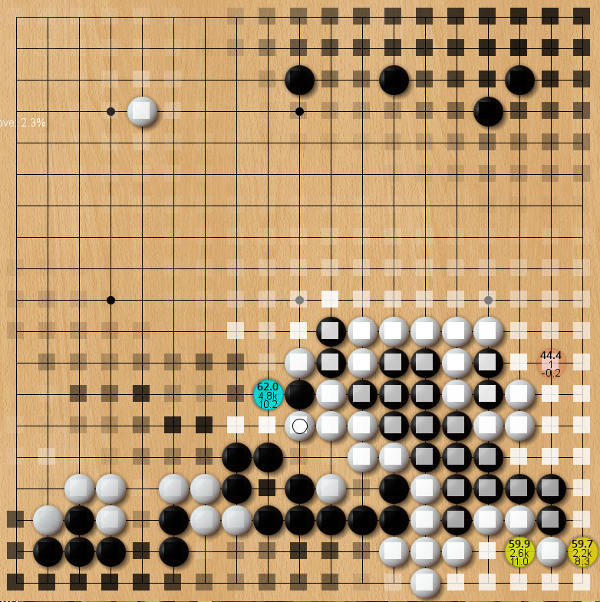 fight.png [ 620.07 KiB | Viewed 685 times ]
Example line from one of the displayed variations, skipping the ko-threat wasting moves:
As you actually play down the line, KataGo starts getting better opinions about the order of moves it prefers, this is just what it sees from the initial atari.
Most of the slowness (still taking many thousands of playouts) in solving the position is due to the fact that black can interpose all sorts of moves in the lower right. If in Lizzie you have black waste all the ko threats in the lower right in advance, the solving the tactics in the center becomes very fast. Presumably the ladder solver input is doing a tremendous amount of work here to enable this.
Also, if you play down this line, KataGo realizes that it's even better than it thought, putting white ahead even with a -25 point komi instead of still behind. In many variations, white captures the marked black stones but black gets an attack against the marked white stones, but is not able to kill them, so white ends up fine.
So overall: solving the tactics seems easy enough, but KataGo has some trouble evaluating which tactics are the best way and how to optimize winning chances (when having a negative komi), particularly from the earlier positions.