3rd game, between 2 top Chinese pros in mid-2017 so after AG arrived but unsure how much AI knowledge of this shape disseminated at the time: Mi Yuting 9p white vs Tuo Jiaxi 9p.
http://ps.waltheri.net/database/game/75560/
. This analysis with KataGo.
Initial position black (Tuo) 3-3 invades at 47%, a good move though KG says an unsettling slide on the right corner is slightly better at 49%.
Attachment: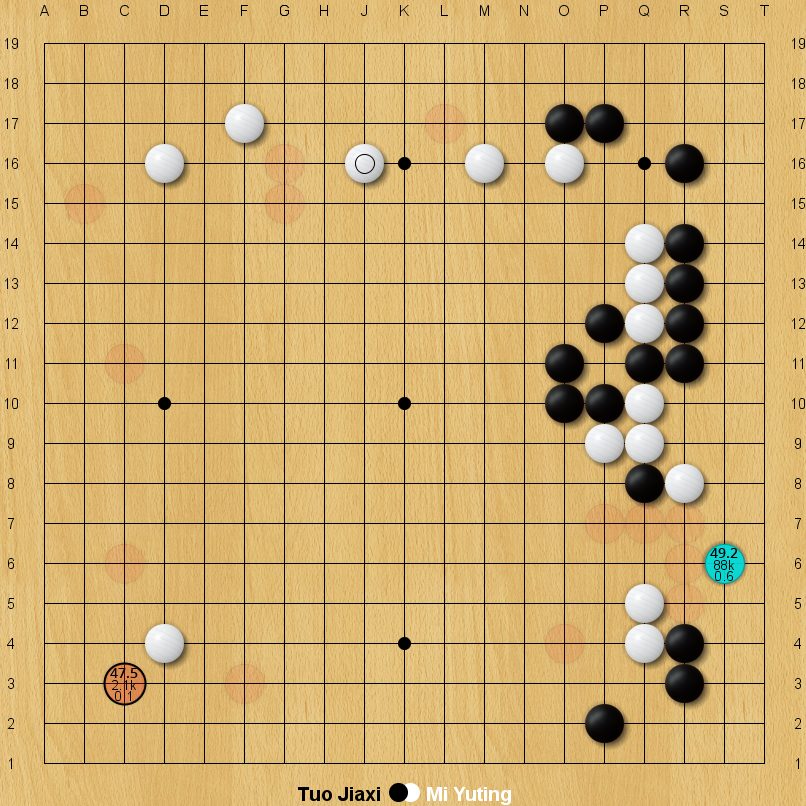 switcheroo3.1.PNG [ 952.1 KiB | Viewed 9245 times ]
Double hane by white is a little mistake (rare example where, given first hane, bot thinks extend is better than double hane) and black should take the normal ponnuki in sente then take the key slide on right for 53%, so that's a 5% improvement on white's best response to 3-3 (the normal modern joseki of 1-point jump at f3)
Attachment: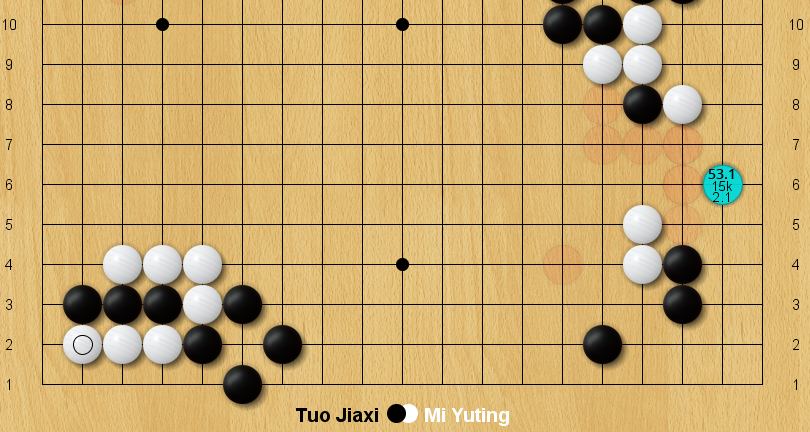 switcheroo3.2.PNG [ 523.61 KiB | Viewed 9245 times ]
Game line with switcheroo ponnuki is again about a 20% drop (on a different bot) and loses about komi. KG also wants to play the atari not extend.
Attachment: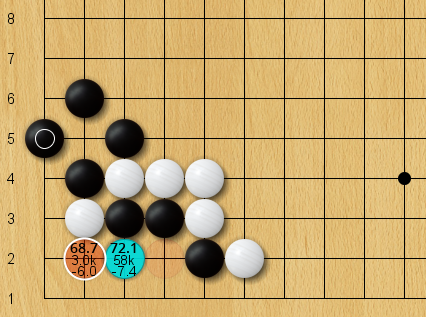 switcheroo3.3.PNG [ 273.97 KiB | Viewed 9245 times ]
This game also soon featured the e5 attachment as a resource for black to settle his ponnuki when he tenukid and white attacked it, so we can get a concrete variation to show the superiority of the corner atari over extend. In the game black slid at 1, white attacked the ponnuki at 2 (key point to note is this attack is more powerful than trying to attack the normal ponnuki, because in that one the aji of the 2 corner stones means pushing out gives white liberty problems in the corner). KG says the extension of 6 was soft and white should atari and bravely fight the ko (this is true whether white defended with b2 extend or c2 atari)
So what happens if white resists 5? We end up with this ko:
With B2, KG thinks black should (by a slim margin) ignore the threat (black is around 25% here) and connect the ko, white pushes through to follow up on the threat, black jumps to save (part of) the corner and then white defends at g5. That last part is crucial, because black g5 is sente for f3 which captures all the white stones and turns the corner black.
Compare to if white had played atari, now black winning the ko no longer has the lovely sente atari at g5 as a followup, so this ko is easier for white to lose. White wouldn't defend at g5 but keep pressing the lower right corner
Indeed KG recommends black to not ignore the threat this time. Black is around 20% rather than 25% in these lines.