Jujube wrote:
it says: Black A is sente.
No, it's not. It's
kikashi
.
The Bishop speaks better Japanese than me, so you'd better check with him what
sente
really means, but here's my take, based on what i remember inferring from Ishi Press books, many of which he translated:
sente
means: "if you don't respond, i will make an unreasonable gain"
kikashi
means: "assuming the rest of the board is reasonably balanced, if you don't respond i will make a very unreasonable gain, so large that i will win the game there and then".
Since Korean commentators became popular, their common use of the Japanese word
sente
to loosely mean "kind of forcing" has become commonplace among Anglophones too, but the difference between
sente
and
kikashi
is fundamental.
In this position, black 7 is sente, because it threatens a follow-up move at A, which would be kikashi.
Attachment: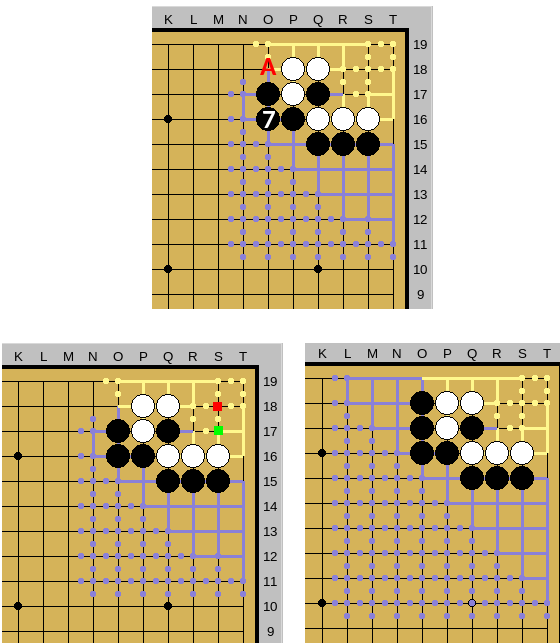 jujube.png [ 22.12 KiB | Viewed 2738 times ]
A is kikashi, because if white doesn't respond, black can kill the corner, as Ed showed.
When you look at the position at the top, you have to imagine the two pictures at the bottom. I'm as weak as you, and i have trouble doing that, so sometimes i ask gomap to show me what i should see; and if that doesn't help, i ask Swim.
gomap sees that white has 2 clusters, not one, so there is plenty of aji.
The shape move for black is the centre of symmetry, the red point. It's the point any kyu can straightaway see, because you don't have to be any good at Go to see symmetry.
The green point is what i reckon a Dan would immediately see first; the clamp is a standard endgame tesuji to score a few yose points, often in sente.
Here, with A in place, the green clamp does more than that; it produces a ko.
So for that reason alone, A is sente, but because there is also the red placement, A is more than just sente; it's kikashi.
A is valuable for another reason too: look at the bottom right picture to see how much it expands black's influence in the centre and even on the right as well as along the top.
PS Oh, wait.. maybe the clamp kills too... check this out:
Attachment:

jujube.sgf [256 Bytes]
Downloaded 92 times