the "offer" solicited is not "to implement a hand-tuned heuristic" - it is a request for you to summarise. in your own words, what your Go fighting strategy is.
Fighting is my weakest point, so i am interested to see what the fighters among you have to say.
From your comment about wheel reinvention, it sounds like you haven't read any of my papers or any of the icGo documentation and are suffering from the A or ~A syndrome.
given your name, i suppose you can't be blamed for only being able to see two colours, like a Brexiteer, or the PR champions of NN vs The Rest, such as the CEO of IBM, who has an appallingly narrow-minded perspective on AI if she actually believes what she said at Davos.
But perhaps it is i who misunderstand you - perhaps you can explain in a little detail precisely which wheel it is that you think i am reinventing - and, more importantly, why you think that?
Certainly, i make no claim to absolute originality; on the contrary, i stand on the shoulders of giants such as Boole, Bartlett, De Groot, Simon, Minsky, McCarthy, Winograd, Sacerdoti, Reitman and Wilcox, and Hofstadter, in roughly chronological order. If you want to understand what it's all about, Alfie, my posts on computer-go.org and published papers and videos will give you some background.
For me, this thread is not about collecting Facebook "friends", or flogging a half-baked product, so i care not a whit whether you or anyone else sticks around or not - i post only to engage in dialogue to clarify and refine my theory. So far, the most valuable feedback i have received in two years is Kirby's request for Swim to analyse his game, which is prompting me to further develop the attack methods of CG.
Political and religious arguments are more often than not degenerate; i have no time for them. Scientific enquiry is what tickles my fancy. On the other hand, i would be interested to teach anyone who hates Maths how to like it, because i see a real need for ordinary people to be able to see through the bullshit and spin of their exploiters, which will require a revolution in education, which is what my video series "Antidote to School" is about. Needless to say, it isn't going to happen during my lifetime, and probably not during yours either. The concrete is too solidly cast, and all the indications are that it's going to get worse before it gets better, if ever. This is no time to be young and poor.
Attachment: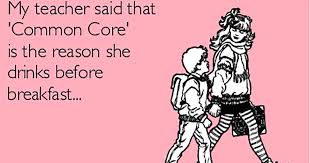 commoncore.jpeg [ 10.65 KiB | Viewed 1065 times ]