sorin wrote:
Does your method work when applied *before* playing a move?
Yes. If you read the full paper, you will see that Swim examines the position before Alphago's "strange" move 7 and comes up with two justifications for making it a candidate. That does not necessarily imply that Swim would choose that move itself, as there are other factors it considers, most notably the balance of perceived territory/influence. Offhand, i can't predict what move Swim would choose without doing a complete simulation of the algorithm; my guess is that it might favour a keima kakari in the lower right, but i can't be sure.
Uberdude wrote:
correction applied, thank you.
As regards your alternative position, where white has an ogeima shimari instead of keima, Swim's justification for black 7 (= your black 1) would be pretty much the same. However, other factors might make it less favoured; a keima is perceived by Swim to create a cluster, but an ogeima is not. Inducing a white push along the 3rd line would strengthen white's colour map to the edge, which would propagate a shadow towards the hoshi stone.
Extract from
https://papers.ssrn.com/sol3/papers.cfm ... id=2818149
:
Code:
Colour connection is computed by an iterative colour propagation algorithm.
step 1: a colour-controlled point colours its links and their endpoints.
step 2: a link connecting two singly-coloured points or a singly-coloured point on the second line to a neutral edge point is coloured.
The steps are repeated until no new coloured points or links are discovered.

Each singly-coloured point shadows its links to empty points. Then:
step 1: a point whose links are multiply shadowed by only one colour becomes a shadowed point.
step 2: a shadowed point propagates its shadow along its unshadowed links.
The steps are repeated until no new multiply shadowed points are discovered.
That wouldn't turn the three white stones into a single cluster, but it would strengthen the white shadow over the ogeima's weak point.
Attachment: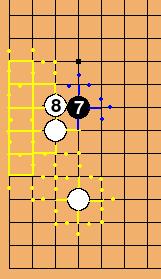 ogeima3.jpeg [ 11.86 KiB | Viewed 922 times ]