A game with latest netwoek #223. Not sure if the opponent was a bot, he always used 25 seconds per move for a while and only lost advantage slowly, but then messed up a fight and didn't resign for ages. I thought LZ's judgement of when to play solidly to settle, when to sacrifice, when to play severely was interesting. LZ's winrate slowly grew until he messed up a fight and game over. Highlights:
- move 26 white should have d9 sente first to stop black making some eyespace there.
- 41: LZ wanted r7 extend but lighter r8 was a promising blue circle, I played out a few moves and winrate stayed higher so I picked it.
- 48 was mistake, should n4 or l7 and make a mess. So why didn't LZ want to atari there before j4? And why did it want to atari there now rather than directly l7 (-1%). I wonder if something to do with white j2 in a sequence wanting to be gote. Or is it just if black makes the territory it's double sente yose?
- 65 don't often see LZ make this block, but quick life and makes r11 wrong
- 69 cut was preferred to (natural to me) o16 (-7%) getting out even though it then didn't run with it and just went back to living in corner. I think the option of q12 atari to help reduce a w moyo and make w bad shape was why.
- 76 o16 slow, should f17
- 77 interesting that LZ picked this way to attack, it is mutual base of 2 unsettled groups but struck me as slow compared to top side (e.g. g17 -3%). But it judges strength and weakness of groups here as urgent and doesn't mind if white extends on top, because by attacking this group we can expect to keep top under control
- 81 voila, black d9 group is now essentially alive whilst white group weak and only now does black play top side in good rhythm.
- 83 another lesson, attack from 2nd line not centre!
- 95 W should answer this peep in centre and black is 65% (see sgf var - it's in a way that means if black cuts white group has exit route and black has ugly shape. e18 was an invasion point but he got timing wrong. Now he starts making big mistakes, maybe his bot crashed.
Attachment: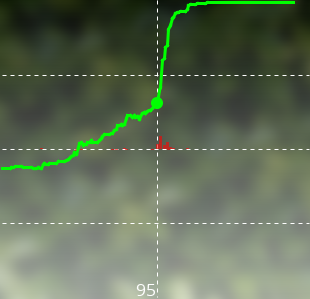 223 vs bot never resign.PNG [ 111.19 KiB | Viewed 1403 times ]