I just spent time to properly test the game-end scoring function. I've scored 10 games without having major problems. It is much better than in the previous version, but some minor improvements are still possible.
Here are some tips for users (refer to the attached screen capture):
- when entering the scoring mode (by tapping the menu icon from the corner, and tapping the scale icon)
- territories without dead stones, such as the bottom left corner are automatically scored.
- tap the dead stones, such as T10 to score their neighbouring points
- N6 isn't a point. But by convention kifus from Japanese sources do not fill dame moves. Tap the N6 point to remove it from the final scoring.
- The game does not have G17/G18 exchange. This is not necessary because even black plays G17, white can play E17 to reduce one points. Again this is convention in Japanese kifus, which of course causes problems to software. Tap that area several times to mark three points at F19, G19 and F18.
- The scoring result should match the game result recorded. Otherwise, review the board to find more unmarked dead stones or incorrectly marked points. If still not matched, the game record might be wrong.
Attachment: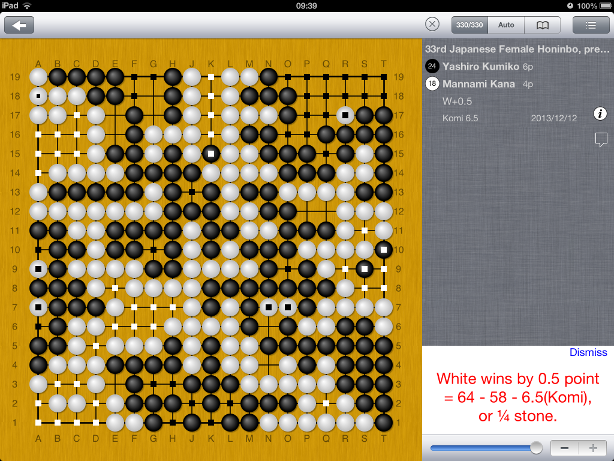 2013-12-13 09.39.45.png [ 339.18 KiB | Viewed 3754 times ]
Here are some problems:
- Even on large-screen IPAD, I missed the dead stones a few times and tapped the nearby empty points. The behaviour when that happens is a bit unpredictable and strange. For example load the game in the screen catpure, try tapping K16 to see what happens. Maybe the algorithm can be further improved? For example, only when an area is all marked before the user is allowed to modify the status of a single points.
- If you do find a way to improve the above point, make sure areas like F19 can still be marked properly.
- Finally a suggestion unrelated to scoring. As can be seen from the screen capture, when turning on the board coordinates, the margins around the board appear to be too large. Can that be improved?