I think the venue is very nice. I'm a little biased because I lived in the Boston area for over 10 years. Some people in dorms without air conditioning were complaining about the heat. I wish I could have warned them about that, but it's too late now. I like the food. I eat mostly vegetarian (I was pretty strict for about 18 years) and usually that's not a problem but it was in one Congress (Portland of all places). There is no problem at BU.
The main playing room is large, with nice space between tables:
Attachment: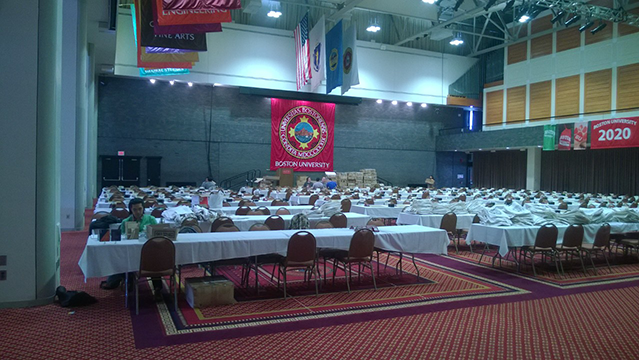 playingroom.png [ 434.59 KiB | Viewed 10764 times ]
I recorded my games with an iPad mini. (When I am in shape I can remember 90-120 moves without that, but I'm not that in shape, probably because what little playing I do is online.) I expect that soon device recording will be forbidden. I used to record on paper, but I made many mistakes that way. Why is move 62 on there twice, for example?

Devices are less error prone in my experience, and easier to use when you show someone else the game.
While I lost my first game, in retrospect I resigned too early. Actually, that's a long-standing bad habit of mine. Considering the games I lose by blunders in the endgame, maybe I shouldn't give my opponents that much credit right now. I also have to learn to count more accurately. When I count, I count by 1s. I don't count by 2s, like books or DrStraw recocommends, because I make too many mistakes in which 2s I've counted. I know it's probably just a matter of practice, but any tips of course are welcome. Yilun Yang 7p once said that until 2d, don't bother counting at all, just play the best move. But others have different opinions.
I had coffee this morning and won my
second game.
. Yesterday I had none and lost. This is not a scientific study.

I thank Norman Tsai 7d for spending some time casual time with me watching the City League finals and sharing his insights in the game. I'm going to have to check the results and see if they agreed with what we concluded would happen when we quit watching. I saw Jennie Shen 2p and asked her about it (she commented live on the top board) and she said it wasn't that interesting a game. (I hope I didn't misquote her on that. I really like Jennie, her commentaries, her lectures and everything and I'm not alone. She gets a lot of applause at the Go Congress.)
I did do the winter series of Guo Juan's internet go school. I recommend it. When I was active with it, I probably temporarily improved by 2-3 stones. Her personal advice to me was to the effect that I know some stuff but have to work on basics. That's not news to me

It's almost as if I wake up some mornings and I can read a bit and other days I can't. It's pretty inconsistent.
That main playing room closes at midnight, so there is no Midnight Madness Tournament. (There hasn't been for a while, poor Martin Lebl.) Self-paired and Midnight Madness have been replaced by something called "Night League" which is a ladder-based thing that runs at handicap - 2 with a max handicap of 4 and some challenge system. I think the TDs will still do some kind of self-paired for you if you ask. The communication around this is pretty sparse, IMHO, but I heard that fewer people were playing self-paired games than in the past.
The AlphaGo keynote was pretty good. Aja Huang was restricted from disclosing much and didn't say much more than what has already been said. Andy Liu 1p expressed some doubts that AlphaGo could give professionals a handicap, but Aja said he thinks maybe. The Google/Deepmind team is very secretive. Honestly, though I am in the industry, I enjoyed Fan Hui 2p's bit more. He was very genial and funny.
Attachment: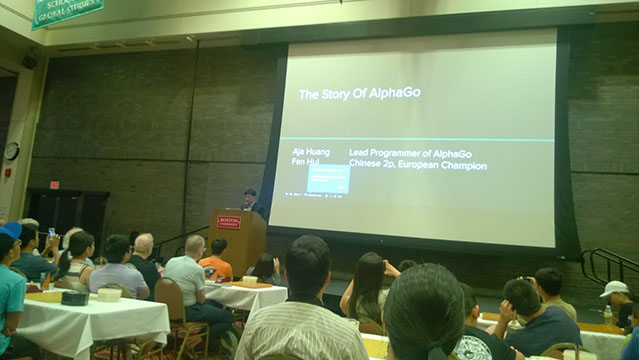 alphago.jpg [ 71.83 KiB | Viewed 10764 times ]
I had to do laundry on Sunday, so I didn't have much time to attend lectures and whatnot. Instead I played a couple of fast games on Tygem in the evening. I know, it's sad. All these people to play in person and I was on the Internet. (I did play one of those Night League games, though. Lost. Bad attention.)