The basic idea of king of the hill is very simple: there is a hill with several levels. Only one person can occupy the top level - that is the king. Everybody who participates starts at the bottom. To move up, you must beat someone at a game of go.
-------------------------------
THERE ARE FOUR LEVELS:
1) King
2) Assassins ( the only players who get a shot at the king )
3) Contenders
4) The Mob ( The bottom of the hill. Everybody starts here. )
There is no limit to the number of people who can be on any of the three lower levels. There is, of course, only one king.
--------------------------------
Attachment: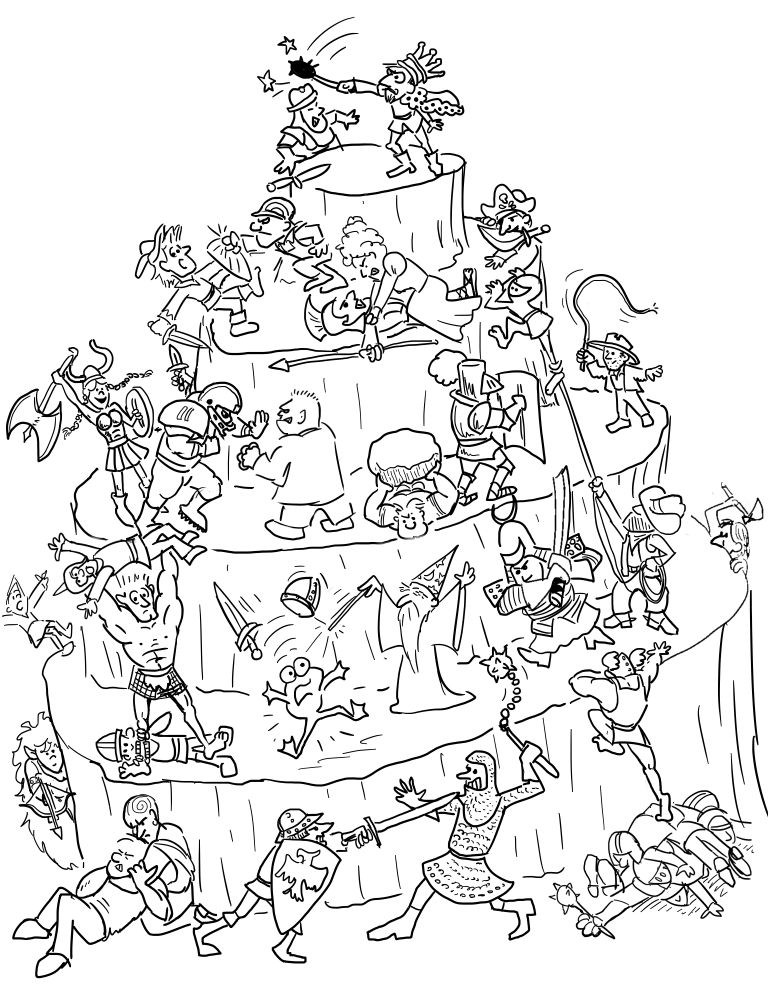 king_of_the_hill.jpg [ 175.45 KiB | Viewed 4767 times ]
--------------------------------
REGISTRATION:
To register, a player posts his KGS playing schedule, KGS name, and KGS rank in the membership thread.
- Anybody can join. All you need is a KGS account.
- A schedule should be a weekly schedule, indicating when you can play. See notes below for details.
- Your KGS name should be the account you use most often, or the one that reflects your true strength.
- You can only register once, regardless of how many KGS accounts you may have.
--------------------------------
THERE ARE FIVE THREADS:
1) Rules & questions - You are reading this thread now
2) Membership - One post per member ( First post will include an index so you don't have to search much )
3) Challenges - One of the two threads that you have to read regularly.
4) Results - The results of games are posted here.
5) Announcements & status - The other thread that you should look at when posts are added.
The normal cycle of use is:
1) Read the rules thread
2) Post once in the membership thread.
3) Challenge somone by posting in the challenges thread or read it regularly to see if someone challenges you.
4) Play the game on KGS
5) Post the result in the results thread (if you won).
6) Go back to step #3
-------------------------------
GAMES:
1) All games are played in the L19 room on KGS.
2) The defender gets to choose time controls. ( See notes for details )
3) If the challenger is the lower ranked player, or of equal rank, there is no handicap.
4) If the defender is of lower rank, he gets the appropriate handicap.
5) White gets 7.5 komi.
6) If the king is playing, rule #3 does not apply, and the appropriate handicap is used.
-------------------------------
CHALLENGING:
- Challenges must be made against someone on your level. ( Unless you are an assassin going after the king. ) Please use their L19 name when issuing a challenge, as not all observers will know them by their KGS name.
- A challenge must include the opponent's name and a time. The time must be chosen from the defender's posted schedule. The chosen time must be at least four days ( 96 hours ) in the future. The time does not need to match the challenger's schedule.
- The challenge must be posted in the challenge thread. An email to the defendant is chivalrous, but not required.
- You can only challenge someone who has a posted playing schedule with the same or Fewer total hours per week. ( When counting hours, anything over 50 hours per week is considered equal to 50 )
- If the player who you wish to challenge has an active challenge - either as challenger or as defendant - you must allow at least 24 hours between starting times.
- To challenge the king, assassins must have at least one win over another assassin during their current visit to that level.
--------------------------------
REPLYING TO A CHALLENGE:
- Defenders have three days to accept. Failure to reply to a challenge within those times results in a forfeit.
- An acceptance must be posted in the challenge thread at least 24 hours before the game. ( If the game is played without such a formal acceptance, defender forfeits, even if he wins )
- Defender chooses time controls for the game. Main time can be anything from 1 minute to one hour.
-------------------------------
RESULTS:
When the game is finished, winner is responsible for posting the result - with SGF - in the results thread. Wins don't count unless the winner posts.
Mob: Winner goes up, loser stays.
Contenders: Winner goes up one level, loser goes down one level.
Assassins: Loser goes down to the mob. Winner stays.
Assassin vs king. Loser goes down to the mob. Winner is king.
--------------------------------
CHANGING YOUR SCHEDULE:
- A player's schedule can only be changed when the player is in the mob with no pending games. Once he is on the hill he is stuck with the schedule that he started with. If he has challenged or has been challenged, no schedule changes may be made until that challenge is resolved by a win, a loss, or a forfeit.
- To change your schedule, edit your post in the membership thread.
- Attempting to change your schedule improperly may result in severe penalties from the TD, up to permanent banishment from the hill.
--------------------------------
LEAPING:
Should you find yourself on the assassin or contender levels with an ill-chosen schedule, such that your progress is stymied, leaping to your death is acceptable. Please notify the TD in such instances and you will be reincarnated in the mob.
--------------------------------
NOTES:
1) The perceptive hillperson will notice that the set of rules regarding scheduling lends itself to gamesmanship. This is deliberate.
Players are allowed to try to arrange the game with the schedule and time controls most favorable to themselves.
You can only challenge someone with the same or lesser total hours per week. The more hours that you make yourself available, the more likely that you will be able to play. In practice, this means that a big schedule can be used as a defense. You may find yourself among competitors who cannot touch you because they cannot challenge you. The downside of this strategy is that a clever challenger may drag you out of bed, leaving you the option of either playing while sleepy or forfeiting.
2) However, once the go game starts, gamesmanship will be heavily frowned upon by the TD. Honorable behavior will be expected. Deliberate miscounting, escaping, taunting the opponent, or other disturbances may lead to a forfeit being imposed by the TD.
3) If a member forfeits too many games, the TD may remove him from the mob. This is entirely at the TD's discretion.
4) Schedules are in chunks of 1 hour or more, using integral hours ( no minutes ). These are the times when you are willing to START the game. If finishing the game takes you outside of your posted schedule, too bad - you should plan ahead.
All times/days are UCT (aka GMT). An example might be:

Monday: 16:00 - 21:00
Tuesday: 3:00 - 5:00
Wednesday: 3:00 - 5:00 / 16:00 - 22:00
Thursday: -
Friday: 16:00 - 21:00
Saturday: 21:00 - 24:00
Sunday: -
Total hours = 23
5) Rank can be arbitrarily changed by the TD if he suspects sandbagging. A short, erratic, or nonexistent KGS rank graph is likely to make the TD suspicious. A record of wins in KOTH games on KGS punctuated by losses in non-KOTH games, such that the KGS rank remains stable, is also likely to make the TD suspicious.
6) Main time can be anything from 1 minute to 1 hour. Byo yomi must be Japanese 5x30. No absolute time.
7) To get things going, there must be a king in place. In the great tradition of despots who appoint themselves to various undeserved offices, I am making myself king. ( I figure that this will provide additional incentive to certain members.

)
8) If deposing me is not enough incentive, I'm offering real-world benefits: the first person to hold the top of the hill for 30 consectutive days gets 100 US dollars wired to the paypal account of his choice from the bulging coffers of L19. ( This means, of course, that if one of you does not depose me within 30 days, I will feel free to embezzle the money.

)
9) Thanks to Inkwolf for the donation of artwork in this post.

--------------------------------
THEORETICAL MUSINGS: