I do not think that the OGS Clock, pictured below, is suitable for real-time games - particularly those with tense time constraints.
Attachment: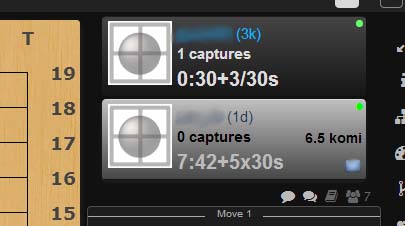 OGS Clock.jpg [ 32.57 KiB | Viewed 4582 times ]
I find the chaotically concatenated string of characters to be too small, low-contrast, inconsistent and difficult to read.
The clock is a fundamental part of a Go-playing U.I. - second only to the board and stones.
I started a thread on the official OGS forums - albeit a bit sarcastically (OGS: please accept my apology.) - and, despite the fact that the thread has been 'liked' twice - the moderators stated, categorically, that I am the only user who holds these opinions and locked the thread. I consider OGS to be hope for online Go and cannot simply abandon it due to this experience but I also cannot tolerate the clock in its current form and do not believe that this opinion is unique.
Here, on the impartial L19, we can discus it.