I was reading a book by Yoda Norimoto today where he mentioned that his games end in 1/2 point decisions more often than other players. Naturally I wondered whether this would show up in my numbers or not. The result of a quick and dirty sifting of a non-random sample of players gave the following based on even games played with non-zero komi.
Attachment: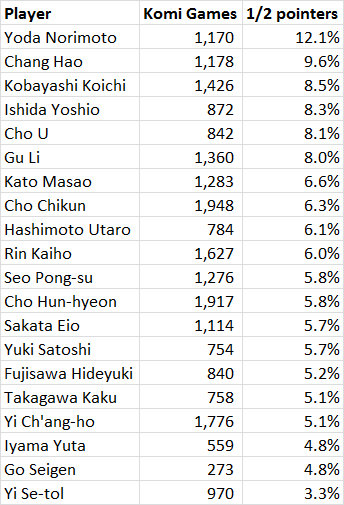 percentage of half pointers.jpg [ 79.3 KiB | Viewed 1455 times ]
Sure enough Yoda stood out at the top of the list. He estimated the rate at one game in ten but it is actually closer to one game in eight (of games played with komi anyway) across his career.
I have no deep thoughts on the list (although it is hard not to look at the names at the very bottom and not have one of those "Hmmm..." moments

). I simply offer it up for your amusement.
_________________
Dave Sigaty
"Short-lived are both the praiser and the praised, and rememberer and the remembered..."
- Marcus Aurelius; Meditations, VIII 21