Ah, thanks for the bump! Yeah, for ownership heatmaps and score reporting, there is a bit of news, which I forgot that I never posted to this forum.
Mostly still doing ground-level research on KataGo (and finding some things that could give another factor of 2 or 3 speedup!). So far haven't spent a lot of time on UI and tools. I figure I want to try to get things a bit more competitive with other bots first in terms of the actual final strength of the network. LZ130-level, while quite strong, is still quite a ways below the best networks out there that have been trained with greatly more resources.
Despite that, not too long ago, I did add a "kata-analyze" GTP command to the GTP engine, which works very similarly to "lz-analyze", except that it also has the ability to report in
real time
during the search:
* A prediction of the mean final score at the end of the game (i.e. "how many points is the player ahead or behind by")
* A heatmap of predicted final ownership across the board.
If tools like Lizzie could pull that in, that would be really fun. And I also made one-off visualization for a local demo I was doing (sadly, not a review tool, just a visualization). I posted the resulting videos here, showing examples of the real-time ownership during some self-play games.
https://www.dropbox.com/s/svoybd565u6qf ... 1.mp4?dl=0
https://www.dropbox.com/s/dmrs8rgzzukeo ... 2.mp4?dl=0
https://www.dropbox.com/s/is7xsc1839guk ... 3.mp4?dl=0
Attachment: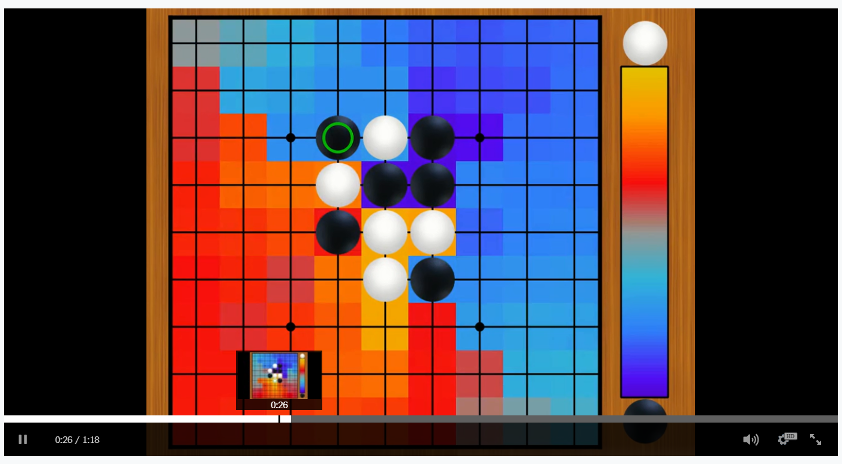 ownershipmoviescreenshot.png [ 210.98 KiB | Viewed 1227 times ]
I'd be very happy if someone who works on one of the many existing GUIs or analysis tools out there wanted to go ahead and add support in their tool for this.