Uberdude wrote:
Even on a weak computer LZ is so strong it can teach a lot
to be sure, to be sure!

i've just received Lizzie's win% graph help in identifying where i managed to start losing a game in which i had been 92% ahead for most of the first 100 moves, when black invaded my moyo and succeeded in cutting off its head.
Attachment: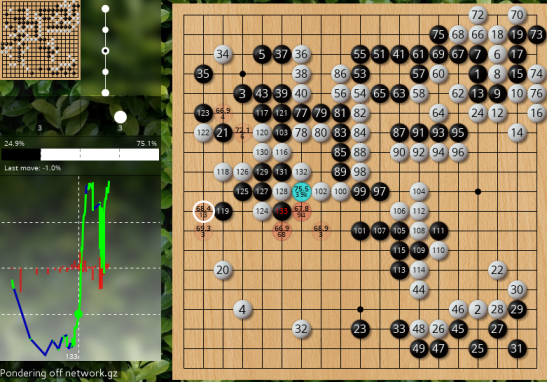 courage.png [ 397.37 KiB | Viewed 4229 times ]
staring through Lizzie's window at Laizy's preferred stubborn connection for a while, it still wasn't apparent that my plan of letting black get away with a bit of cheek was all bad - she rated my intendedly sabaki duck around the side at 68% compared to relentless connection in the middle at 75%.
as a general principle, i am happy to let opp grab a few trinkets in return for a safe passage home - but i was curious to see how Laizy expected her preferred move to play out, as it looked like it would be a massive fight and i would be putting all my eggs in one basket.
this is what she showed me!
Attachment: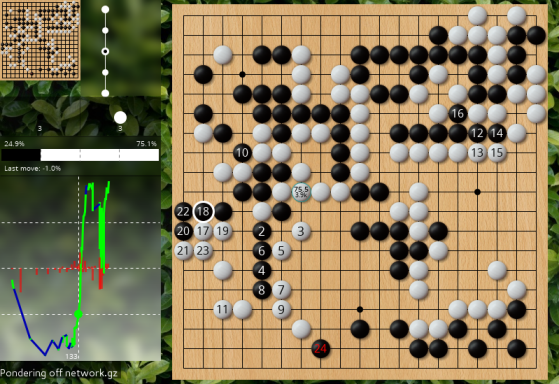 fight.png [ 390.86 KiB | Viewed 4229 times ]
oh, gosh, surely that kind of "all-or-nothing" fight isn't even necessary for white to risk, as my simple-minded sacrifice tactic still left me with a huge advantage?
- but an advantage i was to squander with a series of blunders, possibly because of having been a bit demoralised at having let black get away with his desperate lunge so easily.
so what has Laizy taught me?
one thing for sure: i don't heed Lady MacBeth's stern enjoinder to screw my courage to the sticking point !!