my drawing was a poor external representation of my internal mental image - and to make matters even worse, it led me astray in expressing my preferences, partly because i forgot that despite believing a bird in the hand is worth two in the bush, i'm not keen on early 3-3s.
this picture is a better expression of what i had in mind; it avoids 1000 words of potentially confusing nomenclature like
inside
and
outside
(what Go writers call the
inside
is geographically on the outer part of the board and vice-versa).
Attachment: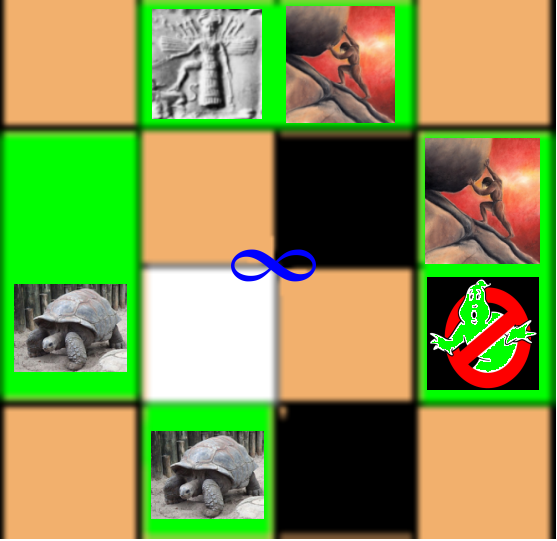 123.png [ 148.1 KiB | Viewed 1920 times ]
the drawing maps points into squares and vice-versa, and draws (the third and fourth lines of) the 4 corners together to keep it simple. The centre of Go earth is a long way from the
outside
4th line, so far that it's not worth thinking about at this early stage, unless your name happens to be Kitani, and maybe not even then.
black and white have already occupied three squares, leaving a few green fields of golden calf opportunity.
One of them is golden calf
Alfie
's preferred move, indicated by an early image of one of her Mesapotamian pre-incarnations:
Ishtar
.
The green field sandwiched between the two black ones is scary; it may look green but it could be poisonous.
The two green fields in the top right look like hard work to get anywhere, because of black's existing presence.
Because white already has a presence in the bottom left, the green fields there are for slowcoaches, not high fliers with wings like Ishtar.