BTW, for those of you under 30, that picture in my post above is a rotary dial telephone.
The development was an exercise in ergonomics. The earliest ones had the number and the accompanying digits in the circle, so that a person would simply put his finger on the number that he wanted.
It looked like this:
Attachment: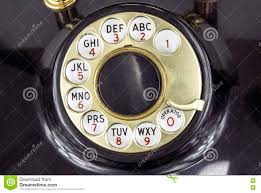 dial.jpg [ 10.12 KiB | Viewed 3007 times ]
But this was soon found to be a problem for people with less than perfect vision, for the font had to be small to fit everything in the finger hole. So the engineers moved the numbers and letters outside of the finger hole, where there was more room for a larger font.
This caused great confusion, for people did not know where to put the finger. ( Intellectually, they knew. But when it came to repeat usage, they had problems. The brain's visual systems wanted a target. )
It was solved by putting a dot in the center of each finger hole.
This was the endpoint of ergonomic development, lasting virtually unchanged until the invention of the pushbutton phone.
Again, for those under 30: