spook wrote:
Some more questions, I had:

- Roughly, how many games does it take to advance from one level to the next ? (e.g. from 3d to 4d)

- There is a green button to start a game, but what is the purple button for. (i.e. the one on the right of it) ?

Thank you in advance.
1. Fox works on a win X out of your last Y games to go up 1 or 2 ranks system, where X and Y vary based on your rank. You can see how many games you personally need to win/lose on your user info to promote/demote, the green and red up down arrows with number of games. (Below is 12 wins up 1 rank, 16 wins up 2 ranks, 13 losses down 1, 17 losses down 2).
Attachment: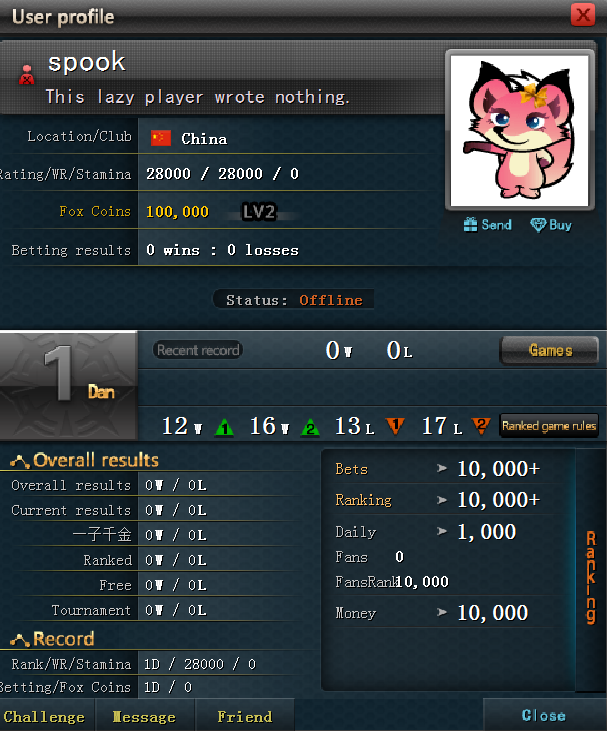 fox info.PNG [ 332.79 KiB | Viewed 4605 times ]
Click 'Ranked Game Rules' button to see the rules across the ranks.
Attachment: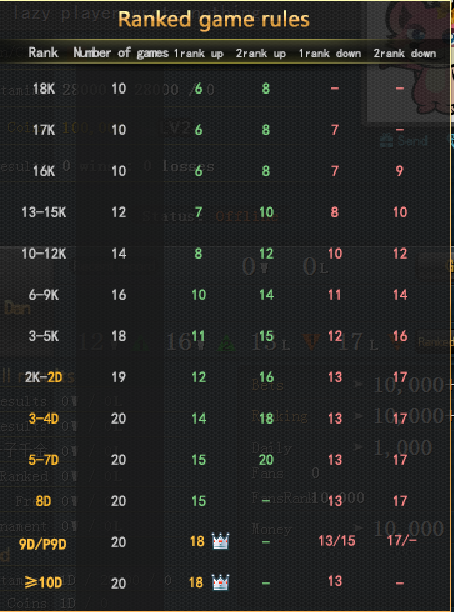 fox rankup.png [ 198.97 KiB | Viewed 4605 times ]
2. Assuming you mean the purple button with text '一子千金' it's a special game mode in which captures count for double points, to encourage killing. See
forum/viewtopic.php?p=238734#p238734
P.S. Knotwilg, rather than drawing I take a screenshot and online OCR e.g.
http://www.i2ocr.com/free-online-chines ... tional-ocr